Repair Your Home With These Easy At Home Fixes!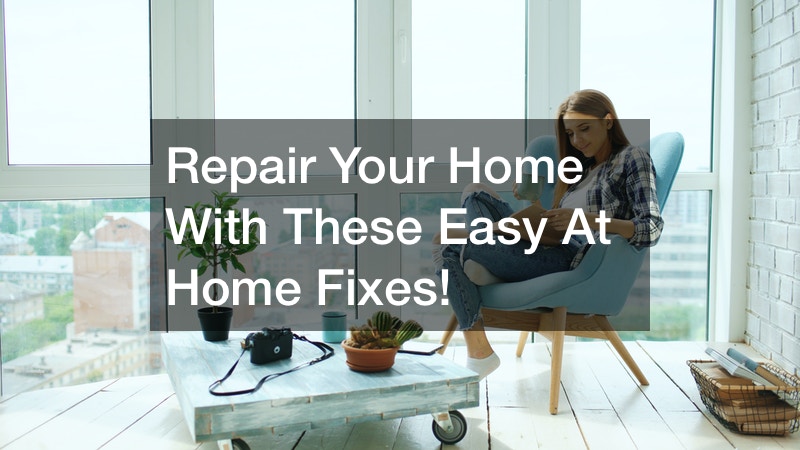 As the property owner, it is your responsibility to know when to do some repairs on your home. Many homeowners think that home improvement projects are expensive and must only be done by construction professionals. If you fall under that category, then you can relax because there are several repairs you can do by yourself. However, you will have to hire experts for more complex projects. If you feel overwhelmed by this topic, read on to understand which repair projects you can DIY and the repairs that need a professional touch.
The Best Easy Home Repair Projects
You do not have to be worried about home improvement projects. There is a vast array of these projects that are simple for you. You can DIY such projects, and you will be mesmerized by the impact they have on your property. However, others are more complex and require professional intervention. Therefore, this section will be divided into two categories – five projects you can DIY and five that need a professional.
Easy repair projects you can DIY include:
Gutter Cleaning
The gutter is an important section of your roof. It leads rainwater away from the roof onto the ground or in a storage tank. When such a channel becomes clogged, it signals danger. That is because water will accumulate on it, consequently leading to the growth of mold and mildew. This is why you should take this project with a lot of seriousness. Cleaning your gutter is a simple task that you can DIY. However, you need to consider safety requirements first because the project involves the use of ladders. It is recommendable to have someone else there to hold the ladder still and offer help.
Hole Patching
The nail holes on your walls may make them appear dirty and unorganized – it is time to patch them up. The majority of homeowners can patch up these holes without too much hassle. So, you can do it, too. Grab a sparkle knife and use it to fill the holes with putty. Remove the excess putty from the hole and give the remaining putty time to dry. Once it has dried up, sand the repaired areas down until they become smooth and apply a primer on them.
Fixing a Running Toilet
A running toilet can be a bother and cause discomfort when you are using it. Fortunately, that is an easy task that you can fix without any issues. Many box stores and hardware sell toilet rebuild kits, which come with an easy-to-follow manual. In most cases, a running toilet is caused by a faulty flapper. The best way to test if the flapper is the issue is by adding some food color to the water. If the colored water sips into the bowl, it is time to get a new rubber flapper.
Painting
Almost anyone can hold a brush, dip it in paint, and apply it on the walls, including your teenage daughter or son. However, this is only applicable to small painting projects. Painting the ceiling can transform your house immensely. Nevertheless, you should be careful in such projects that involve climbing up a ladder. Just like cleaning the gutters, you should have someone to hold the ladder for you and offer any assistance you may require.
The Bathroom
The bathroom is among the first rooms you visit in the morning. As such, it needs to be clean and in good condition always. You do not need a sophisticated bath remodel to transform your old bathroom into a new one. Simple and easy tasks, such as adding a coat of paint and hanging new curtains, can bring about a remarkable transformation in your bathroom. Getting ready in a beautiful bathroom will surely bring joy to you and your family.
Repair Projects that Require Professionalism
In this part, you will gather more information on the home improvement projects that need to be handled by specialists in the construction field. Some of them include;
The Roof
The beauty of the roof contributes significantly to how your house looks like. Therefore, you need not forget about this essential part and any remodeling that may be required. However, it is recommendable to consider procuring roof service from a professional roofer. Repairing the roof is a project that involves climbing up and down a ladder or even climbing onto the roof itself. Therefore, the risk of accidents is very high if you are unqualified for the job, unlike a professional roofer.
The Floor

Floor repairs are essential home improvement projects that can be simple or complex. You can DIY simple tasks, such as re-grouting the tiles. However, more complex projects, for instance, tile installation, should be handled by a flooring contractor. Hiring such an expert assures you that the job will be done to or beyond your satisfaction.
Door Replacement
If any door in your home is beyond repair, then it is time to replace it. Having a new door can help reduce energy consumption in your house and make the space more appealing. However, you need to ensure the installation is done right to achieve that. Any major door repair or replacement should be done by an expert.
Kitchen Upgrades
As a homeowner, there are several kitchen remodeling projects that you can handle by yourself. Changing leaking faucets, painting the cabinets, and cleaning the dining room sets are some renovations that a homeowner can comfortably take. However, kitchen remodeling projects such as new cabinet installation need a lot of professionalism. Installing new cabinets can go extremely haywire, even with minor miscalculations. Additionally, these storages should be precisely aligned in the available space, a task that only an experienced cabinet installer can handle.
Your air conditioner (ac) is a vital part of your home as it helps you and your family live in a cool environment. If you already have such an appliance in your home, but it is not functional, you should consider ac repairs. However, if the conditioner is beyond repair, replacing it would be the ideal option. Ac installation can be a tricky project, considering the many electrical connections that must be done. When you get a new ac system, it is advisable to call in a professional to ensure that it is installed correctly and is functional. However, some homeowners understand this installation process, and it is okay for them to handle such a project.
Benefits of Repairing your Home

Repair projects are inevitable if you want to continue enjoying living in your house. The best way to know which repairs are needed is to have your property regularly checked up. After learning about the repairs that you can do and those that professionals should do, it is imperative to understand how such improvements benefit you. The following are some of the ways in which home improvement projects are beneficial;
Enhanced Curb Appeal
Undoubtedly, a well-repaired house is more aesthetically appealing than one that has not been renovated. You will even feel proud to show your visitors around because there is nothing to be ashamed of – everything is in good condition. This is especially important for exterior projects, such as ac repairs.
There are no two ways to go about maintaining your home's stylish appearance other than considering repair projects. Your home's appearance translates directly into your personality. You may want your friends, neighbors, and passers-by to have a positive perspective about you. One of the best ways to achieve that is by ensuring your property looks appealing.
Skyrocketed Property Value
You might be considering putting your home on the market someday, and you may want to get the maximum return on investment. Repairing the house and all its components will ensure that it attracts only the best buyers. Simple projects, such as adding a coat of paint, can have an immense impact on the property's asking price. Additionally, buyers will be keen on new additions which they will not have to take care of themselves, such as perfectly installed roofing and newly installed kitchen cabinets.
Reduced Energy Consumption
On average, the energy consumption in your home accounts for the largest portion of your utility bills. In today's world, energy costs have ballooned for almost all homeowners. It can be tough to meet such expenses, considering that the world is in the middle of a pandemic. So, the most effective technique of lowering your home's energy consumption is through renovation projects. Think of repairing your doors and windows. If such parts are old and broken, your home could be losing a lot of heat, implying that you have to use more energy to maintain the required interior temperature. Moreover, getting more energy-efficient home appliances plays an integral role in lowering energy consumption and costs.
Enhanced Comfort and Functionality
Your home's occupants should feel comfortable and safe within and outside its walls. Repairs, such as floor renovation, can boost the level of comfort you feel while walking around your house. Moreover, home improvement projects help your home to live up to its maximum potential. You would not want a broken garage door that can hurt your children and pets or a broken HVAC, which can create irregular temperature changes that can be fatal for little kids and the elderly.
Moreover, water leakages in your home can lead to the growth of mold and mildew, which can have adverse effects on your family and property. By indulging in repair projects, you can rest assured that you are on the right path to keep your home fully functional while promoting your family's comfort.
Saves You Money
Regular house checkups will reveal the parts that need repairs. If some of these repairs are not carried out immediately, they may end up making the situation worse in the future and costing you more money. For instance, if there are a few loose shingles on your roof, the ideal step would be to nail them down because if they later go missing, you will spend more money replacing them. Another scenario would be incurring many expenses in repairs and insurance just because you ignored preventative home maintenance.
It is estimated that faulty dryers cause about 15,000 fires annually, which results in property losses totaling about $75 million. That is why you should be on the lookout for such appliances to ensure they are functioning correctly. Additionally, spending a few dollars on hiring a roofer for roof repairs is better than spending thousands of dollars when your roof tumbles down into your house.
Increased Living Space
You might be surprised by how much space you add to your home by conducting repair projects. For instance, if your garage has been out of shape for some time, you can remodel it and use it as a guest room. Additionally, you can rent out such a room and enjoy an additional monthly income. Alternatively, you can use a renovated garage as storage for items that may be lying around your homes, such as broken furniture and farm equipment.
Promotes Safety

As you and your family live in your house, you should take it upon yourself to ensure that all parts of the property are safe. The materials used in constructing your home can be safe or dangerous, depending on their condition. That is why you are advised to have regular home inspections to ensure everything is in order. For instance, if your roof is not in good condition, you may consider roof install services.
Every home deserves special treatment from its owner, and yours is no exception. Besides making it more appealing and aesthetically beautiful, home repair projects can make your property safe for the occupants. There are many improvement projects out there, some of which you can comfortably DIY. However, other projects are complex and require professional services. In this article, you have learned about the tasks you can do yourself and those projects that need an expert. Additionally, the benefits of renovating and repairing your home are well laid out for you. Follow them keenly to understand how remodeling your property can benefit you and others.