Performing Simple Home Repairs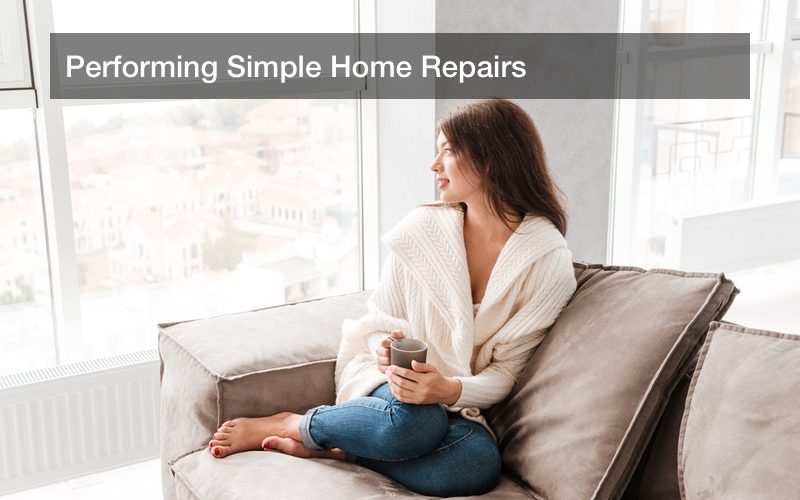 Your home is where we spend the most of our time. There comes a sense of pride when someone owns a home. Driving around town, you are likely to pass at least one or blighted properties that show what could happen when you don't take good care of your home. It is important to use your pride and create the best home possible. You can put much hard work, effort, and smart spending basics to create a wonderful home. There are a number of simple home repairs that you should consider.
Kitchen repairs
The kitchen is often regarded as the busiest room in any home. It is usually the room that needs the most cleaning. It seems like we just got done taking care of this room when there's something else that needs to be done in this room. You would be wise to conduct some simple home repairs in the kitchen. Even the most minor of kitchen remodels has a return on investment rate of 82.7%.
Due to the hustle and bustle of kitchen activity, it can become the most difficult room in your home to clean. What makes it so difficult is the frequency that you have to clean it. Every once in a while, you should schedule a full deep cleaning of the kitchen. If you have marble countertops, for example, consider hiring a marble cleaning company. They specialize in this material and give it the right cleaning that it deserves. Specialized services can be extra helpful in your simple home repairs.
With so many people coming and going throughout your kitchen, floors can take a significant amount of abuse. They can get easily scuffed up and need some extra TLC. Regular maintenance of your floor will help protect it. Make sure to perform regular cleanings such as sweeping or mopping. These cleanings should be performed once or twice a week at the least. Floors can get easily scuffed up from sliding kitchen chairs. Investing in some chair protectors is a wise choice. They can slide under the legs and provide a nice cushion against the linoleum floor. These simple home repairs and maintenance measures will help keep your kitchen clean and functional.
Outside property repairs
Simple home repairs are not just limited to the interior of the house. The exterior of your home and the surrounding area need just as much care. This is what everyone will see when they pass by your home. You want to make a great impression so that everyone will think that you take good care of your property.
Tree maintenance is essential to taking care of your property. Trees can become overgrown and need a good trimming. Failure to do so could result in significant damage during a storm if the branches fall. The tree can also overgrow unto your neighbor's property and create a nuisance for them. A quality tree service can help take care of all your tree trimming needs.
The outside property maintenance is a lot more than just cosmetic. There are several simple home repairs that are functional in scope. One essential part of the exterior of your home is the gutter. Gutters help to drain rainwater away from your home. It is important to take care of this functional tool.
Unfortunately, rain is not the only thing that enters the gutter. Gutters are frequently becoming clogged with leaves, branches, and other portions of nature. You should perform frequent cleanings of your gutter system. If you need a replacement or install a new gutter, you will need to consider the various gutter installation services in your area. You may not find someone who specializes in this service exactly but performs this function as a part of a larger contracting company. Pertinent research is required to find the right installer.
Cleaning the outdoor area
Decks and porches are parts of your home that should be maintained and cleaned. One of the key components of the cleaning process is power washing. Power washing involves using water, soap, and a pump to thoroughly clean these surfaces. Power washing should be completed at least once a year or whenever the surface becomes dingy.
If you plan on doing the power washing yourself, you should be able to find the necessary equipment at an equipment rental store. Some homeowners, however, do not have the time or the ability to perform this function. In this situation, you will need to find a quality power washing company to help you meet your cleaning needs. These simple home repairs are best done before the spring and summer season. You will want to make sure your deck or porch is prepared to go for these seasons when they will most be in use.
In the "off season" you can perform some maintenance measures to help. During the winter season, it is important that you shovel snow off of the area. While it may be easier to just shovel a pathway, there are some consequences. The melted snow can freeze and cause cracks in the surface. Practicing due diligence will help protect your deck and/or porch.
Driveway maintenance
Driveways are another essential part of any home. They can be of great convenience to drivers. Instead of having to fight while searching for a parking spot, they have a guaranteed spot every time. There are a number of important simple home repairs that you can perform on your driveway to ensure its functionality. Like you will shovel snow off your porch or deck, you should also do the same to your driveway. Cracks in the pavement could pose potential problems for your vehicle.
Tree roots can also cause uproot the foundation of your driveway. If you have not installed a driveway, consider whether tree roots are in the area. However, that might not be an option if the driveway is already in place. To help fix this problem, you should contact a concrete or stonemason. They can help with your driveway leveling. After their project, your driveway will hopefully be smooth and easy to drive on.
The garage
The garage is an essential part of any home. It will help keep your vehicle safe from the elements as well as from potential thieves. They can also be used for the care and storage of your belongings such as tools, toys, and appliances. There are several simple home repairs for taking care of your garage.
A key component of your garage maintenance is having quality doors. If garage doors are running smoothly, then they will protect everything in there. A malfunctioning set of doors can leave your house in a vulnerable position. When you are finished buying garage doors and ready for installation, there are a number of different tips to prevent a malfunction. Oftentimes the reason for the malfunction is the sensor. Automatic garage doors work through a sensor system. When installing the sensor, make sure it is in a spot that is free from obstacles. Something placed in front of the sensor will prevent it from working. Make sure that it has easy access and is in a spot that is out of the way. You would also be well-advised to perform frequent maintenance checkups of the garage door opener. By doing this, you can identify any potential issues and nip them in the bud before they snowball into something worse.
Garages can often become cluttered with items that homeowners have collected over the years. They can turn into a catch-all for items that they do not know what to do with. This could present an organizational issue. Items can often fall over and cause damage to your vehicle. Using common sense and playing it smart should help. Make sure that any potential damaging items are far away from your vehicle.
Storm damage prevention
Large torrential storms are often one of the biggest fears for any homeowner. The thought of their home being destroyed by a storm can send shivers down their spines. Fortunately, there are a number of simple home repairs that will help mitigate any damage caused by a storm.
andnbsp;
The roof is often something that takes the most damage following a storm. Old damaged tiles could lead to leakiness. If water gets into your home, mold and mildew could develop. This will cause major problems for anyone with respiratory issues. Older roofing shingles should be replaced to prevent such an occurrence. This project will also help with your homeowner's insurance plan. It could help reduce your premium. Although anyone with a high enough ladder can accomplish this, it is not recommended. Something like this is best left to a trained residential roofing contractor.
Before searching for a roofing company, you will need to conduct the pertinent research. You can solicit roofing recommendations from close friends, family members, and colleagues. You can also search for websites and online reviews to gain a better understanding of the company's practices. Safety should be their number one priority. Make sure to ask them about what safeguards they have in place to prevent accidents. With the right research, you can make an informed decision.
If your home has suffered some storm damage, hope is not all lost. There are a number of simple home repairs that you can perform to help fix these issues. You might want to consider finding a contractor who specializes in storm damage. A storm damage service will help you fix all the broken and damaged areas in your home. Replacing broken windows, filling in cracked concrete, water damage cleanup are just some of the various services that these types of businesses offer to customers. This can be a stressful and vulnerable period for any homeowner. Let a storm damage service take something off your plate.
Painting
Painting is among the most important of the simple home repairs. Paint on your walls can eventually wear down over time. These walls will require a new paint job every few years, depending on the severity. Smoking can be a major cause of paint damage. Walls will eventually turn yellow after exposure to cigarette smoke. While there are numerous more important reasons for quitting smoking, the prevention of smoke damage should also be considered.
Before starting on the paint job, shopping for the right paint is vitally important. You will want to find paint that will complement the room and accentuate the design of it all. It is important to consider everything that will be in the room. The painted walls must match the furniture and other items in the room. Colors that clash will leave a sour impression on anyone who sees it. When shopping for paint, consult with the paint expert at the hardware store. They can offer some great suggestions on what shade of paint will look best in your home.
When purchasing the paint, there are a number of accessories you will also need. These include paint brushes, rollers, and a tray to pour the paint into. Safety is also the number one priority. Make sure to have some tarps on hand to keep the fumes confined to the room that you are painting. This will help protect everyone else in the home. While you are painting, it is important to protect yourself as well. Make sure to buy some masks to wear. The masks can be a lifesaver because they will help stop you from breathing in the fumes. When you take a break for lunch, make sure that you are eating in a room far away from the paint fumes. When conducting any simple home repairs, it is important that safety is vital.
Windows
Beautiful windows are sure to impress any visitors that you may have to your home. They help you see into the outside world and bring that world into your home. The natural sunlight shining through your windows can really highlight any room. Taking care of your windows is crucial.
Windows can easily become dirty and dingy. Having regular cleanings and maintenance of them is critical. A dirty window can become an eyesore and leave the wrong first impression on your guest. Care and maintenance of the window shutters is also important. The paint on your shutters will easily crack and dry out over time. If left ignored, it will give off a haunted house vibe to anyone who sees them. You will need to chip off the old paint and repaint the shutters ever so often. With the right amount of TLC, your windows and shutters will truly shine and impress.
Taking great care of your home can seem like a large and difficult task at times. If you adhere to a strict schedule and not leave repair projects ignored, it should go smoothly. Consider these simple home repairs to help bring your residence up to date and comfortable.
Related Keywords:
5 examples of repair materials, average cost of home improvements, best home repair, help fixing up my house, help me fix my house, home maintenance repair, household handyman, how to fix my house, in house repair, new home repairs, repair your house, residential home repair, all do it yourself, average home maintenance expenses, average house repair costs, basic home improvement, basic repair, call repair, can i fix my, diy and home maintenance all in one for dummies, diy and home maintenance for dummies.