Learn How to Update an Old House With These Essential Steps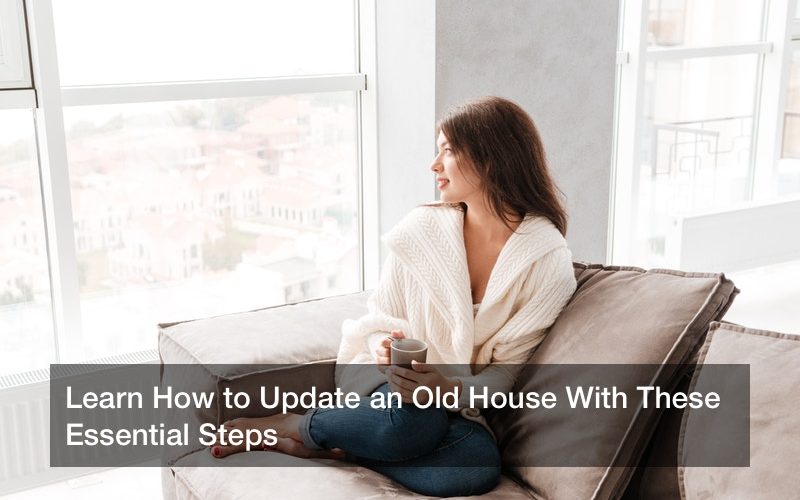 If you're on the market looking for a new property, you'll probably come across older homes. It's tough not to be taken in by their charm. Whether they're 30, 50, or 100+ years old, they tell a tale from a bygone era. Who wouldn't appreciate that? However, before you sign any contracts, you need to investigate how to update an old house.
Understanding how to update an old house before your closing day is essential to you being happy in the home. Why? To be perfectly honest, older homes need some extra TLC. It'll be up to you to take care of the property, and that's not going to happen until you take your role seriously.
Want to know more about how to update an old house? Read our tips and insider tips to get your favorite historic home up to working order.
Learn the Warning Signs of Irreparable Damage
Not to sound the alarm too loudly, but you do need to be careful. Not all older homes for sale are in great working order. Always conduct a thorough walk-through of the residence and hire professionals to check it over. Often, technicians will see things you've missed, such as black mold in a dark part of the lower level garage, or evidence of significant termite damage or critter invasions and infestations.
If you find out that a home you're considering will cost way too much to restore, you may want to leave it for a different buyer. Sure, you want to enjoy the experience of learning how to update an old house. Nevertheless, you shouldn't have to break the bank to do it. Plus, a highly damaged home could be unhealthy for you and your family to reside in, making it an unwise financial commitment.
Of course, if professionals tell you that all your home needs is some facelifts and relatively minor repairs, by all means put in a bid. If the seller accepts your offer, you'll be on your way to diving into how to update an old house!
Get an Electrician in There
As soon as you own your house, pick up the phone and call an electrician. Why? Older homes tend to have clunky electric setups. Depending upon how old your home is, the electric box might be outdated or a known fire hazard. Therefore, getting an opinion from a trustworthy technician well-versed in electrical services will be invaluable.
While it isn't cheap to pay an electrician to rewire your home, it's essential. Many insurance providers won't want to cover your home if its wiring isn't updated. Besides, do you really want to worry about potentially experiencing an electric fire? Of course not!
As part of your electrician visit, ask the technician to make other suggestions for lighting in and outside of the home. You don't have to act on the recommendations. However, they'll help you decide your next moves as you continue with your plans regarding how to update an old house.
Give the Bathrooms an Upgrade
You'll definitely be spending an awful lot of time in all the bathrooms in your new-to-you property. While old clawfoot bathtubs, appliances, and hardware can seem quirky, those dated items aren't so great when you're trying to actually get clean! In fact, one of the wisest uses for your renovation budget would be to upgrade all the bathrooms.
What will this look like in practice? Although every bathroom updo is unique to the home and homeowners, you will probably want to replace the toilets, if nothing else. Older toilets are hardly energy efficient and will probably cause your water bills to go through the roof. After switching out the toilets, consider whether you want to keep the current tub or shower. If it's in terrific shape, you may be able to keep it with a bit of restoration. On the other hand, if your shower's moldy and your tub's rusty, you'll probably want to move on to more modern models.
This doesn't mean that you have to go fully contemporary with your bathroom spaces. Adding old-fashioned looking fixtures or decorations can echo the historic feel of the house. You just won't have to deal with a bathroom from a century ago!
Invest in a Deep Cleaning
A tipsheet on how to update an old house wouldn't be complete without mentioning the power of a deep clean. Ask a cleaning company to come in before move day and give your home a true scouring. While they're on your property, ask them to shine up the windows, scrub all the fixtures, and dust like crazy. Remember: The old homeowners might not have done anything about the dust bunnies hiding in the pantries or over the wooden framed doors. Rather than living with ancient grime, invest in a thorough cleaning upfront.
Your deep cleaning project will also serve another benefit: You'll improve the indoor air quality of your home. As you read more about how to update an old house, you'll hear quite a bit about indoor air quality and its importance. The last thing you want is to kick up your allergies, or the allergies of someone in the family because of airborne pollutants and particles.
Switch Out Lighting Fixtures
So you say you adore the lights around your house? You might not enjoy them if they have a habit of flickering all the time, or of using too much electricity. Plus, if they're vintage, they might require different bulbs than what you can easily buy on the market.
It's better for you to switch out any dated lighting fixtures as soon as you move into your house. Don't worry, though: You can replace them with replicas that have an old-time appeal. Many lighting manufacturers offer energy-efficient lights that conserve energy but still have a terrific, old-school appearance. Instead of wringing your hands because you can't keep the current lights, have a fun adventure and head to the home improvement store. A visit through the lighting department or aisles will reveal just how many wonderful options are out there!
As a quick side note, unless you're confident enough to replace the lights yourself and deal with wiring issues, always hire a professional for installation.
Have the Roof Repaired
You probably didn't want to read this in our guide focused on how to update an old house. Yet roof repairs are commonplace, especially in older homes. Most roofs only last 25-30 years, and the house that you've purchased might be in dire need of new roofing.
Here's the upshot, though: Roofs aren't necessarily as expensive as everyone thinks. It all depends on the materials you choose, the time of year and the roof company you choose. Plan to ask for bids from numerous roofers in your area. That way, you can compare and contrast what you're getting. Just make sure that all bidders are licensed and bonded for your and their protection.
Trying to negotiate a better deal on your roof repair? Depending on the provider you're interviewing, feel free to ask about add-ons. Roofers actively looking for customers may be willing to throw in extras like gutter cleaning services or gutter replacement. You never know until and unless you ask.
Buy Furniture That Adds Storage
Maybe you didn't notice this in your old house until you actually moved in, but old houses offer notoriously bad storage. Sorry about that! It's just that if your house was built more than a century ago, the average homeowner didn't need walk-in closets or full, climate-controlled basements. Consequently, you're probably going to have to get creative unless you want to add "bumping out walls" on your "how to update an old house" list. (And you probably don't because that's pretty expensive and may change the overall ambiance of your historic house.)
Instead of getting rid of all your extra stuff, you can always buy furniture that doubles as storage units. For example a large wardrobe from your favorite antique shop will be perfect for storing your out-of-season hanging wear. And that clever ottoman? Its top comes off so you can put blankets, pillows and towels inside. Don't forget about foot-of-the-bed chests, too, which were often called "hope chests." They're great for hiding things that would otherwise be front and center.
Replace Old or Broken Pipes
Repeat this phrase over and over: "I will not avoid fixing old plumbing." Far too many homeowners think that they can ignore leaks and drips. The fact is that if you're going to seriously invest in understanding how to update an old house in the smartest ways possible, you're going to have to address ancient plumbing.
The simplest way to determine if you have plumbing disasters currently or potentially is to hire a plumbing service to give your residence a once-over. Have the plumbers check out everything from the integrity of the exposed pipes in the basement to the mildew smell that seems to linger in the living area. You might not love what you hear, but it's better knowing that you have a plumbing issue on your hands than learning about it in a more dramatic fashion. (Yes, water that builds up over time can cause ceilings and floors to collapse. You can't afford that kind of stress on your mind or wallet.)
Bottom line: If your plumber discovers pipes that need to be replaced or fixed, give him or her the green light to make repairs.
Have the Driveway Resealed
Although you're probably going to concentrate your efforts on updating the inside and outside of your house, you might want to give some love to your driveway. The driveway, whether original or not to the house, may need a bit of sprucing up. Otherwise, your home could lack the curb appeal you picture.
What are your driveway options? You could fix cracked concrete or even cover a stone driveway. Call your nearest asphalt paving contractors to see what they say. They might come up with some ideas that you never considered. Be sure to look through the neighbor at other historic homes to see how their homeowners decided to beef up the driveway section.
Restore the Original Flooring
Chances are strong that your older home probably has wood floors. This doesn't mean that the wood floors are meant to be exposed, of course. Sometimes, wood flooring is intended to be covered by some other kind of flooring material, whether carpet or tile. However, if you discover that your house has wood flooring that's just begging to be shown off, go for it!
Get the floor stripped and fixed, making repairs where necessary. You'll be astounded at how quickly an old, worn-out floor can be transformed. If you still want a bit of textiles here and there, consider adding beautiful area rugs to rooms, and runners to hallways or stairwells.
Replace Old Countertops
You probably were wondering when this "how to update an old house" article would get to kitchens. Here it is! Yet you don't absolutely have to gut your kitchen to bring it back to life. Instead, you can do minor facelifts, which will still net you about 82.7% in terms of ROI.
What does a minor renovation project look like? For one, you could replace all the cabinetry or at least paint it. Similarly, you may want to upgrade all your appliances to more energy-efficient models. Finally, installing quartz countertops can allow you to add your own touch without taking away from the time-worn ambiance of the home.
Make Sure the Garage Is Functional
As a final thought on how to update an old house, remember to test the garage door. Residential garage doors wear out, especially if they're the electric variety. Test out the garage door opener and ensure that the door itself functions as expected.
Not sure that your garage is working properly? Get it repaired so you can make use of the space. Remember that a malfunctioning garage door can be a safety issue, as it may leave your home exposed to easy entry from the outside. Therefore, take the time and get someone to help you make sure your garage door works. Oh, and clean up the garage while you're at it, installing shelves if appropriate. You'll love having the added places to store spillover stuff from the house, not to mention tools.
Getting excited to add razzle-dazzle to your historic home? Get out there and give the property the touches it deserves.