Best Tips for Selling Your Home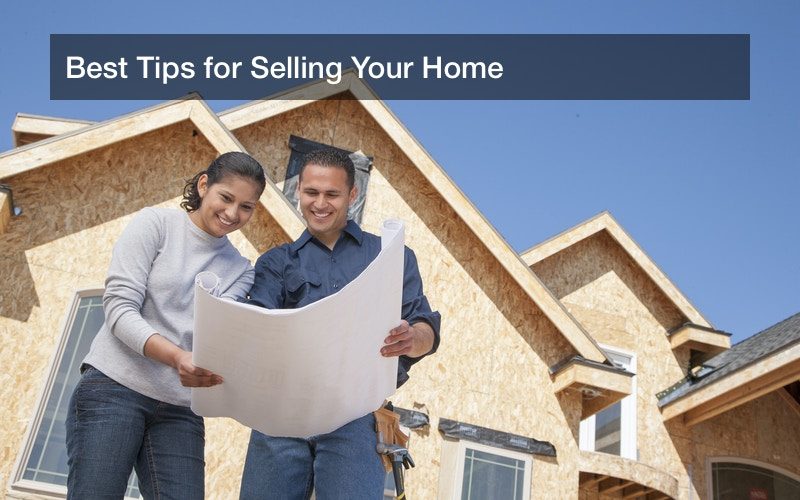 You've made the decision to sell. Now the real work begins. Prepping your home for the dreaded open house. The toughest part of selling a home is getting it in shape before the first potential buyer steps across the threshold. Ready to prep? Here are some of the best tips for selling a house.
You're going to want an agent who is acting on your behalf, not someone who just wants their commission. Selling your home on your own, may not save money. One of the best tips for selling a house is enlisting a real estate agent or real estate broker. And it's crucial if this is your first time as a seller. Almost 90% of home sellers use a real estate agent. A "for sale by owner" property or FSBO selling experience, does give you more control of the seller-buyer negotiations. However, you might not have the time to devote to the entire prep and sell process. You've still got to manage your job, your family, and any other commitments. In addition, real estate laws change rapidly and you're going to want to someone who knows them well. The agent should be able to navigate you through all aspects of selling your house. Think about it: many real estate agencies have access to databases and refined buying and selling analyses, not available to the average homeowner. Your agent can also reach out to multi-national contacts. You never know who's looking for a home in your area.
Next, to tackle the prep, divide your house into two sections: Inside and Outside.
Outside
It's the first thing every potential buyer is going to see. One of the best tips for selling a home is to spruce up (or fix up) the exterior of your home. Is your home's façade in need of an update. You can change its look with new paint or siding. Painting the outside of your house could be the best investment you can make before selling your home. On average, painting a 2-story home (2,500 square feet) costs about $3,000-$5,000. Your local residential siding service can come to give you an estimate and work with you to select materials and colors to allow your home to put its best face forward.
Look higher
How's the roof? Even if it's not leaking, the next owner doesn't want to inherit a 35-year-old roof. Hiring roofing contractors prior to the sale can increase the value of your home. That means your asking price can go up. Replacing a roof can cost about $5,000 to $10,000 depending on the size and the number of gables your roof has. One of the best tips for selling a house is making sure the top is sound. Be sure to let your real estate agent know the particulars of the new roof, including the date of the replacement, the materials, and any guarantee or warranty.
An oasis in front
The outside of your home should create a good first impression. A healthy green lawn may allow you to see green in the form of an offer closer to your asking price. Since there's enough going on in your life right now, leave the lawn chores to the professionals. A landscaping service can advise you on inexpensive updates to the landscape you already have in place. Maybe it's just a cleanup of old shrubs or haul away of yard waste. Keep any water feature (pond, birdbath, waterfall, pool) clean and clear of debris.
In order to keep trees healthy, they're going to need pruning appropriate to their type. You can't sheer maple trees like you can sheer arborvitaes. Check into a local tree trimming service tree trimming and shrub maintenance. You can find these professionals by visiting the National Arborist website. They routinely put homeowners in contact with certified arborists. They can recommend the right tree care service for any job—whether it be tree care, pruning, take down, removal, or stump grinding services. If any of your trees are dead or dying, now is the time to get rid of them.
Your side, my side
Benjamin Franklin was right; fences make good neighbors. A low maintenance fence is also a plus for the value of a home. It established boundaries. With good material, it can decrease the amount of upkeep needed for maintaining fences. A potential buyer can look forward to not dealing with the neighbors. As nice as the neighbors can be, the new owner's pooch might poop on their yard. Low maintenance fencing materials include vinyl, composite, treated lumber, and aluminum. Hint: Call your local zoning office to find out if there are any steps (obtaining permits, approvals, appraisals) you need to take prior to installation.
Introduce yourself
If your real estate agency's listing page or website looks too crowded or unappealing, make your own listing. Create your own custom website, like a "Welcome to Your New Home" page. Tech-savvy home buyers will be able to view your home for themselves. When you choose the website option, make sure you include all the appropriate contact information for your agent. Accentuate the positive. Buyers want to hear about the great schools, your home's proximity to features such as hospitals or medical care clinics. Highlight your pet-friendly community with the nearest doggie parks, local dog walkers, and veterinary hospitals. Mention access to concerts and the arts, local parks, lakes, or rivers for fishing, walking paths, or biking trails. Also, include the nearest daycares and playgrounds. Another nice selling point is the local meet up groups—from hiking to birdwatching—these things are worth including. Sometimes a house is sold before the open house. According to the National Association of Realtors, half of all home buyers start house hunting online. Home buyers can use apps like Redfin or Zillow to pinpoint homes that are in their target area and budget.
Expect the unexpected
Just like the kids get sick before your summer vacation, or the dog throws up on the carpet before the big Christmas party, your house may suddenly become "ill" before a showing. Until the new owner signs the paperwork, the responsibility of any problem or issue is yours. If your home is struck by lightning or gets water in the basement, seek storm damage services before you even allow a buyer (or agent) on your property. The fix may be easy and covered under your homeowner's insurance. As soon as you notice any damage, immediately file a property insurance claim. If the damage is area-wide (tornadoes, hurricanes, floods), understand the urgency of reporting any claim, because the repair and restoration teams will be very busy.
Inside
Budget
While interior updates may be less expensive than exterior updates, you'll need to determine expenses involved to prep your home for sale. One of the best tips for selling a house is sticking to your budget. If you decide to perform major repairs or renovations, you may need permits from your local township's zoning board. Most permits are free, but some zoning issues (involving additions to your structure) may become costly.
Chew into the kitchen
The most important room in your home. Updating a kitchen can range from simple appliances to total gutting. Whether it's a sink, cabinets, a new coat of paint, or a backsplash–you can almost always get much of your money back. The average return on investment or ROI on a minor kitchen remodel is about 80% of what you've put into it. Simple adjustments, like switching out your hardware, like cabinet handles, knobs or drawer pulls are a click away. Online stores offer a variety of styles and materials. One easy kitchen renovation is to remove cabinets and replace them with open shelving. This is especially effective for a narrow or small kitchen to give them a feel of openness. Don't have time or money to replace the entire sink? Then just replace the faucet. A brushed chrome or nickel faucet may cost about $200. If you have a window in the kitchen updating the treatment with new pattern or fabric may be all the renovation you need.
Painting and flooring
Soft colors like beige or an off-white, not only appeal to potential buyers, but they'll enhance the light, angles, and flow of the interior. Painting your walls is always at the top of the best tips for selling list when prepping your home for sale. Hardwood floors give your home an excellent value. Some flooring options include laminate flooring, which offers the look of wood floors for much less per square foot. If you're on a tight budget you may also consider area or hall rugs. Fresh carpets like new cars have a particular odor. One of the best tips for selling a house is to make sure that you have adequate lighting to highlight the paint, floors, and carpet.
How's it feel?
Are you comfortable? If the ceiling fans are unsightly and not doing their job, consider air conditioning installation. One of the best tips for selling a house are properly functioning heating and air conditioning systems. You don't want to be embarrassed when buyers are in your home and the AC conks out as the flip is switched on. And you do not want to have a broken air conditioning unit to become a concession. Seller concessions are stipulations that must occur in order to close on the sale of your home or the sale won't go through.
Things to Hide
Hide the pets
As adorable as they are, potential buyers may have allergies or even be afraid of your pup. Some people are uncomfortable with small rodents (hamsters, guinea pigs, and mice). One survey from the UK found that 40% of prospective buyers were turned off by bad pet smells and general pet messiness. You may want to board Fluffy before your first showing.
Hide the family
No, it's unlikely you have a cringe-worthy "Cousin It." But often, friends and family want to "help" on the day of open house. It should just be the agent and the potential buyer. Tell everyone else to go to the movies or the mall. And don't bake bread or cookies right before an open house. It's a myth and there's no data to support an aroma can increase the willingness by potential buyer. An open house is a business deal, cookies are just a prop.
Hide your junk
Another one of the best tips for selling a house, is to clean it up. If your home is cluttered with collectibles, you don't have to throw everything away. You have options. You can store your treasures in a rented storage unit. Many facilities have month-to-month rental agreements. Some companies like PODS (pods.com) can move your stuff and keep it until you're ready to move into your next home.
Things to Display
The security system signs
Maintaining a safe and secure home is appealing to potential home buyers. If you haven't already, install simple things like smoke and carbon monoxide detectors, and security cameras. The simpler and user-friendly smart locks best tips for selling a house as it helps any home buyer feel secure in their new home. You won't be able to play down any crime in your community, but you can assure the potential buyer, this place is monitored.
Decorations
If it's fall, put out some pumpkins. If it's Christmas, put up the lights. Keep décor simple and tasteful. The idea is not to overwhelm potential buyers. One of the best tips for selling a house is to make it as welcoming as possible. Spring is the best time to sell your home. Houses sell well all year long. So, update your pictures (inside and out) to keep the listing timely. If the season changes while your house is on the market, update your photos to include any upgrades or renovation or seasonal change. Remember: home buyers use the internet, social media and other selling platforms to check out listings.
Every new homeowner wants to move into a home that is in turn-key condition. That's the real estate agent term used to communicate your home is move-in ready. One of the best tips for selling a house and a simple prep: Check that your appliances are in working order and there's nothing obviously wrong with the structure of your home.