Improve Your Homes Value With These Services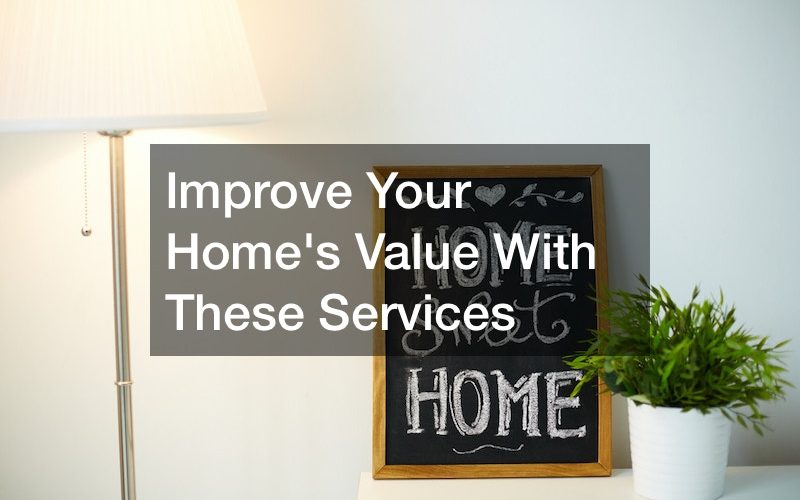 Which are the best residential services to hire to improve the value of your home? If you're looking to sell your home, sprucing it up can help increase its value. But even if you aren't selling immediately, any money you put towards improving your home is an investment you can recoup down the road when you sell. Not only that, home renovations improve the functionality, look, and feel of your home, making it more enjoyable to live in.
Improving the value of your home can be a simple project. With a few carefully selected residential services, you can make your house stand out and attract potential buyers. But, of course, you can also invest in more expensive services, which will still be worth it when you sell your home.
10 Top Residential Services to Hire for Your Home
Below are top residential services that can improve the value of your home, allowing you to get top dollar during a sale:
Plumbing Services
Plumbing is one of the main areas of focus during a property inspection, whether you want to sell your home or refinance it. Therefore, plumbing is one of the top residential services to hire when you want to improve the value of your home.
Several plumbing solutions can help spruce up your home. First and foremost, your plumbing contractor should ensure that all systems – from the piping, drainage, and taps – are functioning optimally. Next, you should consider upgrading some of your fixtures. New pipes, sinks, and faucets can make your home appear more luxurious, thus increasing its value. You can also install new appliances, such as a dishwasher and a garbage disposal system, which increase the value of your home while making it more functional.
Bathroom plumbing services are another excellent investment that can give your bathroom a new look. Installing new bathroom faucets, sinks and vanities, and shower heads can increase the value of your home. You can also consider other bathroom plumbing upgrades, such as a new bathtub. Eco-friendly plumbing fixtures such as dual-flush toilets and low-flow shower heads are also major selling points for home buyers.

HVAC Services
Heating and air conditioning services are another excellent way to improve your home. Unfortunately, many people tend to avoid upgrading their HVAC system as it can be costly, and less noticeable. However, you can be sure that buyers and property inspectors will notice if you have a faulty HVAC system.
Installing a new HVAC system (or repairing your old one) can help make your home more energy efficient, bringing down the heating and cooling bills. This can make your home more appealing to buyers. You can also consider adding home gadgets such as a programmable thermostat and a central dehumidifier. These will reduce the demands of your HVAC unit while making your home feel more comfortable, which will be a major sell to buyers.
Fencing Services
Fencing services are another one of the top residential services to hire when you want to improve the value of your home. A fence protects your home while offering privacy, giving a sense of added security, which is a very appealing factor to most home buyers. Additionally, fence help to improve the curb appeal of your home and make your home look tidier and more expensive.
Several fencing ideas can make for an excellent investment in your home. A wooden fence is one of the top options, which is very popular across the U.S. It also offers several design ideas, for example, a tall fence for privacy or a short, picket fence for more aesthetic appeal. Furthermore, you can paint your fence in any color, from striking white to natural wood stain, gray, blue, off-white, and others.
Besides wood, chain link fence installations are another great idea. This type of fence is functional and an excellent idea for people with dogs and children. It is also affordable and pretty long-lasting. On top of that, you can pair it with other fencing materials, such as slats, bamboo, and wood, to make your fence appear more attractive. Other fencing options to consider include vinyl, precast stone, stone wall, brick wall, iron, PVC, aluminum, and living fence. Any of these can help improve the value of your home.

Paving Services
Paving is another of the best residential services to hire if you want to improve your property's value. Paved driveways and pathways make your outdoors look cleaner and more beautiful, creating a great first impression for your visitors or buyers.
Paved surfaces make your home's exterior more comfortable – no one likes spending time in muddy areas. Additionally, you can use pavers to complement the house's décor, making it appear more elegant.
There are many paving options that can make your home look fabulous. These include concrete, brick, cobblestone, stone, granite, sandstone, and slate pavers. Asphalt paving services can also give your driveway a shiny new look, which helps to increase the curb appeal of your home and its value.
Garage Door Services
If you are looking for more residential services to hire, consider upgrading your garage door. Garage door replacements have many benefits, such as making your home more secure and improving curb appeal. A good garage door can also make your home more energy efficient and reduce energy bills. Therefore, they can be a huge selling point when selling or refinancing your home.
The best thing about replacing the garage door is that you have a plethora of choices when it comes to things such as materials, colors, decorative features, and more. Steel and aluminum are excellent options for materials as they provide maximum security while giving your home a modern look. Other options include vinyl, natural wood, glass, or wood grain finishing. For decorative features, custom windows, handles, studs, and knockers can make your garage door (and your home) appear more elegant.

Painting Services
Painting is one of the top residential services to hire when you are looking to sell your home. A fresh coat of paint can make even the most dated house look new. The best part about painting is that it is not expensive.
Starting with the outdoors, painting helps to improve the aesthetics of your home, which can significantly boost the value of your home. It can also help protect your house from elements such as rain, wind, sleet, snow, and insects, making it a huge investment if you sell it later.
Hiring interior painting contractors is also a good idea when selling your home. Not only does fresh paint improve the look of any room, but it can also make your house more vibrant and welcoming.
When painting your home, it's always best to use neutral colors. While bold and bright colors might appear more eye-catching, they can be off-putting to some buyers, bringing down the value of your home.
Roofing Services
Roofing is another area you should consider when looking for residential services to hire for your home improvement. The quality and look of your roof will affect your home's total value, whether you are listing it or having it appraised for mortgage refinancing.
There are several roofing services you can hire, depending on the condition of your home. Roofing repairs can help fix minor issues such as missing or broken shingles, leaks, poor ventilation, and wear and tear. However, if your roof has more damage, you can opt for roof restoration, a service most local roofing contractors offer.
Alternatively, you can invest in roof replacement, which is extensive but worth it when your roof has extensive damage. A new roof can significantly improve your home's exterior. It also makes buyers more eager to buy your home, as they don't have to deal with roofing issues after the purchase.
Furthermore, with roofing replacement, you can add new features and technologies, such as solar panels and energy-efficient shingles. These are a hit with many buyers and can significantly increase the final value of your home.

Siding Services
Siding is another feature that can have a significant impact on the value of your home. Good siding helps to fix issues such as cracks, wear and tear, and discoloration, enhancing the look of your home. This can help attract eager buyers if you are listing your home.
Additionally, it offers benefits such as protection against elements and increased energy efficiency, which increase the value of your home. Therefore, you should remember siding when looking for residential services to hire for your home improvement.
There are many siding ideas that can help improve the look, feel, and value of your home. Vinyl siding installation is a good option for sprucing up your home's exterior as it is affordable, durable, and low maintenance. It also comes in various color options that are excellent for your home's aesthetics.
Wood is another siding option you can consider. Wood is eco-friendly and gives you many choices in terms of paint and stains. It is also a natural insulator that can help bring down energy bills – a huge selling point for many home buyers. Besides vinyl and wood, other good siding options include fiber cement, metal, engineered wood, stucco, and brick.
Elevator Services
Luxury features are another option when looking for residential services to hire for a better home value. And one of the best luxury amenities you can add to your home is a lift. Residential lifts give off a luxurious look and feel, which can significantly increase the value of a home.
Elevators are also convenient, especially for large homes with three or more levels. On top of that, they increase the accessibility of a home, making it more inviting for the elderly or people with mobility issues.
Most people install elevators during the initial construction phase of the house. However, you can add one as part of your home remodeling project. You can also hire residential elevator services to repair or replace your old elevator, giving your home a more modern and vibrant look.
Flooring Services
Flooring is another vital factor that affects your home's value. Buyers and property inspectors pay close attention to floors when walking through a house; their conditions can determine the final value. Therefore, floor remodeling is another one of the top residential services to hire when looking to spruce up your home.
When it comes to flooring, you can repair and restore your old floor. Repair and installation involve grouting, resealing, sanding, painting and staining, refinishing, and more. These services can give your floor and home new life, making it look and feel fresh and inviting.
Alternatively, you can replace your old floor with a new one, especially if it has suffered extensive damage or is outdated. There are many ideas you can choose from when replacing a floor. The most common ones include hardwood, laminate, luxury vinyl, and tiles.
One thing you should note about floor replacements is that some buyers can be picky about flooring. Therefore, you should speak to a reputable flooring contractor or real estate agent for advice on which floors most people are likely to appreciate.
How to Hire the Best Residential Services for Your Home
The above residential services can help spruce up your home, increasing its value. However, the quality of work done on your home also matters – which heavily depends on the contractors you hire. With the right contractor, you will get a quality job that improves the look of your home, thus increasing its value. But on the other hand, a shoddy contractor can cause you to incur heavy losses.
Therefore, one of the first things to do when hiring residential services is to do your homework. Research various contractors to find the ones who are reputable and have lots of experience. You also want to hire a licensed contractor and, wherever possible, an insured one. More than that, you need someone who can work with you to bring to life your ideas.
The above are some of the top residential services to hire when you are looking to sell or have your home appraised. They can offer your facelift, making it feel more vibrant and inviting. Aside from aesthetics, these services can improve the functionality of your home and offer several other benefits that help increase the total value of your home.