Easy Bedroom Decorating Ideas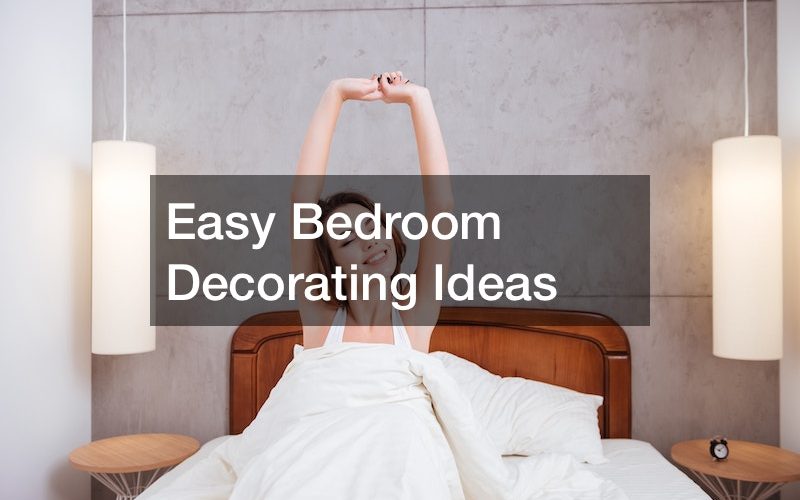 Looking to decorate your bedroom? There are lots of things you can do. You can repaint the space, install wallpaper, add a few furniture pieces and throw in some artwork. All these are great ideas to make your bedroom comfortable and beautiful. One of the things to remember when improving the look and functionality of your bedroom is hiring the right people. Find the best painting contractors, plumbing services, and window company if your windows need to be replaced or you need shutters. This will ensure that you get the best return on investment. Here are some easy bedroom decorating ideas you may want to consider.
Decide How Much Time and Money to Spend
One of the first things you need to do before you start decorating your bedroom is decide how much money you want to spend. If you have a big budget, then you can choose whatever furniture items, wholesale windows and doors, or decor pieces to purchase without any restrictions. However, in most instances, you may find yourself working with a rather tight budget. This means you will probably need to cut some corners. For instance, instead of purchasing new furniture, you can refinish or repaint your existing furniture or buy high-quality used furniture. Apart from that, instead of painting the walls, which is considered a bit costly, you can simply apply vinyl wall decals. Most people do this, and it saves time too.
If you are crafty, there are lots of DIY bedroom decorations that can save you money. Another great idea would be to decorate the room a little bit at a time. Spreading your expenses over a period of time can make things more comfortable. When creating your budget, you want to list all the things you want to do in order of importance. That way, you can easily figure out what's more expensive and what you can remove from the list to make things a bit more affordable. You'll also know where to put your money first.
Choose the Right Colors
Your bedroom isn't really the place to experiment with lots of colors. For instance, there's no point in adding colors like neon to your theme. Most experts recommend sticking to neutral, calming colors that are more on the muted side. Some of the most popularly used bedroom colors include soft blues, whites, creams, and other soothing shades. Also, your color choices shouldn't be random. You should pick an overall color scheme. This is something you need to figure out really early on. If you plan on adding a fresh coat of paint, you should have already thought about the color scheme by then.
When selecting colors for your bedroom, think about the mood you want to create. This will give you some ideas regarding the colors to go with. Do you want your bedroom to be cheerful, bright, cozy, dramatic, or muted? You should also think about the bedroom's orientation. Does the room get a lot of sunlight? If so, how will your color choices look under lamplight and sunlight? Furthermore, you should also think about the size of the room. If it's small, do you want to make it feel larger, or maybe size is not something you are really concerned about?
You will always win when you go with white. If the room is small, adding white will make it expand. And when dealing with a space that doesn't receive lots of sunlight, white will brighten it. It's also an ideal backdrop for many different styles. Therefore, if you have a tendency to change things from time to time, white would be a perfect start. However, as useful as it is, you will find that white is not really an emotional color. This means you will need different layers of tones and textures to bring comfort and depth. Go for nuanced shades, from cool to warm, to create a softer, more flattering aesthetic. This is way better than having a pure white bedroom.
At the other end of the spectrum, you have darker hues. These are also increasing in popularity. If you do a bit of research, you will see that there are many black bedrooms. Despite this seeming like a very bold decision, black is great with rooms of any size and with any level of natural light. Dark colors are great at creating cocooning spaces. While they may not have the space-expanding effects of white, dark colors can blur the edges and make your bedroom's dimensions seem less obvious.
Make the Space Symmetrical
Many experts appreciate symmetrical bedroom setups. This adds to the calming feel and keeps things in balance when implementing easy bedroom decorating ideas. There are lots of ways to make your bedroom more symmetrical. For instance, you can match your nightstands with matching sconces and lamps. Or if you have a window on one side of the bedroom, you can add a similar size mirror on the opposite side to create a visually balanced look. Mirrors are also great when it comes to giving the impression of extra space. They are not really expensive, so you won't part with lots of money getting one.
Add Some Extra Furniture
Apart from your bed, dresser, and nightstands, there are lots of other things you can put in your bedroom as part of your easy bedroom decorating ideas. This is, of course, determined by the amount of space you have. Take time to consider ways to make use of the space, then buy your extra furniture accordingly. It's always great to have a bench or some sort of seating at the foot of your bed. You should also consider adding a rug underneath the bed. This is great for grounding the space. If there's some space left, you can also throw in a comfortable reading nook or table for coffee, journaling, and extra workspace.
As working from home becomes more common than ever, it might be a great idea to add a desk area with a task lamp and PC monitor. You can also look into other options for new office furniture to see what else you may need. This will be a great idea if you share your home with several family members. Having a work area in your bedroom gives you a quiet area to think and do some tasks. When buying furniture, you may want to buy everything you need at once and then hire a furniture moving service to move all your purchases at the same time. This can help you save money.
Throw in Some Artwork
easy bedroom decorating ideas
Looking for easy bedroom decorating ideas to bring some personality to your bedroom? The answer is artwork. It doesn't have to be something very expensive or complicated. If you have a band poster you have had since your teens or something you bought at an auction that holds sentimental value, you can use that to make your bedroom your own space. One of the trends that have stood the test of time is the gallery wall. These always look super beautiful when displayed above your bed. It's a great way to spruce up your boring walls. The good thing about gallery walls is you can tailor them to suit your taste. If you are going with a minimal look, a symmetrical layout and clear color theme will be the way to go. On the other hand, for a more relaxed look, avoid sticking to rigid formats. Instead, find ways to mismatch your frames and spice things up a bit.
Alternatively, you can also choose a single oversized painting to place on your main wall. You can even use this as the basis of the entire bedroom. To make things more interesting, weave the same colors throughout your bedroom. However, make sure the colors you choose will still leave the artwork as the main focus. There are lots of gallery wall ideas online that you can check out for inspiration. Once you have an idea of what you want to do, you can then start curating your bedroom artwork.
Throw in a Chair
Another thing you should consider adding when implementing your easy bedroom decorating ideas is a chair. Not only will it provide a handy surface to carefully place your clothes, but they also look lovely. It's also super nice to have a place where you can totally relax away from the main living room. A hanging chair will work well in a smaller space. This is because they don't really take up lots of floor space. Additionally, the light will still be able to flow under it. Chairs are an ideal addition to the modern boho bedroom. If you are going for a more traditional look, you may want to consider getting a big squishy vintage armchair. This would be a great buy. It's also a great idea to check if there's something you can repurpose something you already have in your living room.
Don't Forget the Ceiling
Did you know that the ceiling is the largest clean surface in your bedroom? Unfortunately, most homeowners totally forget about it when thinking about easy bedroom decorating ideas. You shouldn't make this mistake. Take time to figure out how you can make use of this huge untapped resource. To give your bedroom a special touch, consider wallpapering or painting the ceiling with a different pattern or color. If you are not really into DIY and you want to create the best bedroom look, you can even get a molded ceiling done.
Follow your Personal Style
When implementing your easy bedroom decorating ideas, don't get so caught up in the decorating tips and tricks that you end up with a space that won't feel right for you. The bedroom should not only feel and look comfortable but it should be tailored to your needs. Therefore, make sure that you ask yourself what appeals to you the most at every step. If you feel drawn to something specific, be it upholstered headboards or greenery, make sure you create some room for it when you execute your design.
When it comes to personal style, another thing you want to consider is whether you will like the style several years from now. If the plan is to stay in your home for a while and you don't really see yourself often redecorating, ask yourself if you will still like the items you are choosing after being in your home for a while. If your interests change from time to time, go with a style that has a neutral color scheme. You should also get versatile furniture that you can reuse later on. Your current interests can be expressed using smaller items that aren't difficult to change. This includes things like lights, pillows, wall decorations, and throws. Your passions two years from now may not be the same as they are now.
You should be very careful to avoid over-committing to a theme. It's one thing to have a set of sheets with a horse theme, and it's another thing altogether to have the same horse theme on your lamps, curtains, bed, carpet, throw pillows, and ceiling. If you wake up one day and don't feel like having a horse theme, changing this theme will be a nightmare.
Find the Best Contractors and Service Providers
When executing your easy bedroom decorating ideas, there are lots of things that you can do on your own. However, if something requires experience and specialized skills, you should look for a professional. For instance, if you need to fix your floors, you should get a flooring service to do it for you. There are probably lots of hardwood floor refinishing services around you. All you need is a Google search. A good floor service can help you select the best floor supplies.
These are some easy bedroom decorating ideas that are quite easy to execute. Take time to think about things before you start purchasing. The theme must be in your head already. This will help you know what to buy and what to avoid. To get inspiration, you may want to look at pictures of beautiful bedrooms online. This will give you ideas, and it may even show you what you like. It's not always when you know exactly what you want in your bedroom. This is why a little inspiration will go a long way. You should also remember to stick to your budget.