9 Ways to Build Your Dream Outdoor Kitchen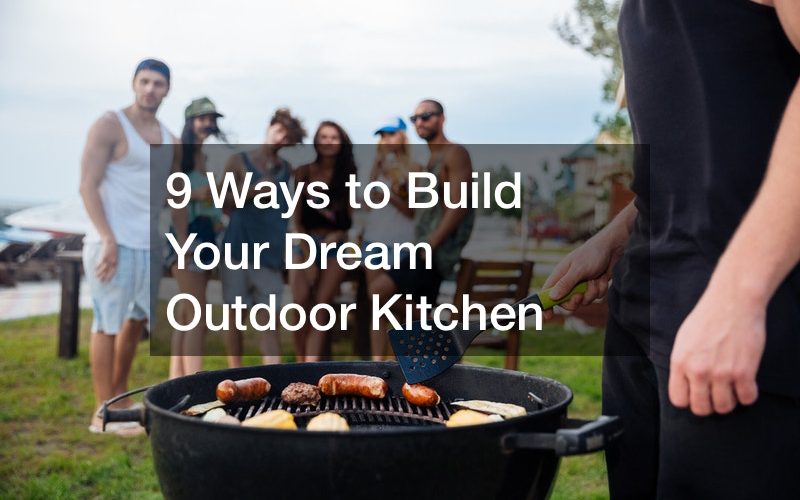 The kitchen is among the primary room in every home. On the other hand, outdoor kitchens are spaces outside your walls furnished with kitchen equipment to allow food preparation and dining for more than one person. Unlike previous generations, where an outdoor kitchen only featured a grill and sink, modern built in outdoor kitchen designs come featuring the latest upgrades, including fully-functional refrigerators.
There are dozens of built in outdoor kitchen designs available to every homeowner. Nowadays, you can customize your kitchen space to your exact preference and liking; it depends on how you utilize your area. Some popular designs feature a cooking area and a detailed dining area furnished with complete chairs and tables. This article features nine methods you use as a guide in building your dream outdoor kitchen.
Built in Outdoor Kitchen Designs for You
Create an Outdoor Kitchen Entertainment Space
One approach you can take to build and customize your outdoor kitchen is creating an entertainment-filled kitchen space. You will need to include amenities and tools to make preparing meals and eating more manageable and more entertaining. There are many ways you can create food serving and dining areas delivering quality entertainment features, one being installing an extended countertop filled with plug-in outlets to connect to other gadgets. The electrical outlets can also function as charging ports, creating an ideal chill space.
If you wish to capture the entire essence of kitchen entertainment, install a bar area in your outdoor kitchen space. You can include an outdoor television, seating areas, and even an audio system to make your outdoor area more enjoyable and exciting. It is among the most common built in outdoor kitchen designs and is a favorite among young homeowners.
Install Refrigeration and Freezing Equipment
Preservation and storing of food are among the kitchen's primary roles, and refrigerators are significant contributors to food preservation. You can install freezing equipment like an outdoor kitchen design, improving the functionality of your space. The drawers can prove helpful in storing beverages, while the rest of the compartments will hold frozen items. The side-by-side glass doors are also an option you can take to display your beverage collection neatly.
Having such equipment in your outdoor kitchen space also reduces movement inside the house. Your guests do not have to move to the indoor kitchen to grab another bottle of beer; they can find one in the freezer outdoors. Refrigerators and freezers rank highly among outdoor kitchen upgrades, so you should consider them as a worthy prospect.
Add a Sink
Sinks are crucial in every kitchen, including an outdoor kitchen. An ideal sink should be large enough to wash, rinse and hold several utensils. However, the basic sinks found in most models offer less than required; hence you may need an upgrade to a design that will marry your current outdoor kitchen layout.
You can install a self-contained water heater for cold and hot water by contracting brick masonry suppliers, maximizing comfort and functionality. By having functional sinks, you keep your outdoor kitchen a self-contained unit. You can clean your utensils outside, rinse and store them there without having to move back to your house.
Install an Outdoor Pizza Oven
Building an outdoor pizza oven is another practical outdoor kitchen design ideal for those who plan to use their space for family entertainment. Installing the outdoor pizza oven can turn your backyard into an annual pizza event. These ovens resemble wood-fired pizza ovens commonly found in Italian eateries.
The ovens vary in design but generally effectively bake pizzas at home. Most oven designs take significant time before they heat up; you can use this time for other group-friendly activities. Can you imagine how much fun you would have by chopping up ingredients and baking an entire pizza in your backyard. Isn't that a satisfactory positive family experience?
Add More Storage Drawers
You can never have enough storage space in your kitchen, and that is why adding more storage space is a practical approach to building your dream outdoor kitchen. If you plan to have valuable items like expensive liquor stored in the drawers, it would be wise to consider locks to prevent unauthorized access. Reach out to luxury home remodeling service to install a control center cabinet to keep all your electrical equipment and other valuable entertainment items.
Upgrade Your Grill
Upgrading your outdoor kitchen grill also ranks highly on our built in outdoor kitchen designs list. The good thing about making upgrades to your bbq grills now is that they are available in various shapes and sizes. The type of grill selected will depend on the open space and the crowd you wish to accommodate in your outdoor kitchen. Some units can easily accommodate 20 hotdogs or hamburgers, ideal for large gatherings, while the smaller ones are more economical.
The good thing about outdoor grills is that they can multi-function as ovens, effectively cooking secret baked beans and gourmet potatoes. Some units can easily accommodate 20 hotdogs or hamburgers. In contrast, others come with extra features like a one-view window and a rotisserie; browse through as many options as possible for the best deal.
Add a Smoker
A smoker is one piece of equipment you do not know you need until you have it in your kitchen. If you enjoy smoked meat, the smoker is an essential cooking equipment you need to consider having in your space. Although preparing smoked meat is a timely procedure, the rich taste and flavor make the wait worth it. It makes your area unique and provides alternative ways to prepare meals in your outdoor kitchen.
Install a Power Burner
Power burners are among the equipment in your kitchen that improve efficiency significantly. This equipment allows you to boil items on your burner at high temperatures, lowering preparation time effectively. You reduce the time spent on the stove, and the entire setup is strategically organized for smooth cooking.
Outside power burners prove helpful when preparing smelly products. Instead of smelling the entire house, you can use the exterior burner for cooking your recipe; an excellent example of such foods includes fish products. You may need an exterior home remodeling contractor to install an ideal and successful power burner.
Lighting
Nighttime should not limit you from enjoying your outdoor kitchen, making lighting an essential consideration in your built in outdoor kitchen designs. You need to install an ideal lighting configuration for your outdoor kitchen space to ensure that you can still enjoy the outdoors even after the sun goes down. You can schedule an outdoor lighting installation appointment with local service providers for a more professional outcome.
Aim to find the best lighting possible to identify when your steaks are correctly cooked and improve safety ratings. Lighting is not limited to your ceilings and walls; you can also install lights inside your kitchen cabinets. You make it easy for anybody to locate ingredients or other items inside the drawers regardless of the time.
Tips for Designing Your Dream Outdoor Kitchen
The Purpose of Your Space
How you plan to use your outdoor kitchen space is significant in designing your outdoor dream area. It would be best to decide the purpose of your space and create a vision and expectations of how you want the place before checking out professional built in outdoor kitchen designs. Also, consider the equipment you wish installed in the area, upgrade its landscape by adding USA flags and its primary purpose.
You can decide that your kitchen space will be explicit for cooking; hence, your outdoor kitchen idea should focus on installing cooking equipment. If you seek an eating space, you will need to consider an ample countertop for prepping and serving your meals. Decide on such aspects since you will need to inform your contractor before the project commences.
Find the Right Contractor
Contractors play considerable roles in every construction project, including building an outdoor kitchen area. Specialists recommend you browse through various contractors and pick the one who delivers as per your expectations. General contractors are the cheaper alternative in this scenario since they handle numerous home remodeling projects. On the other hand, specialized outdoor kitchen contractors guarantee quality despite their increased price ratings; it all depends on your budget.
Arrange for Plumbing and Sufficient Wiring
Outdoor kitchen spaces require the same features found in their in-house counterparts, including water and electricity. You need to plan for these features if your contractor does not cover them in your contract separately. Most contractors have plumbing and electrical wiring included in their agreements, while others offer a fireplace custom pools installation in the space. Since these built in outdoor kitchen designs service providers have professionals in their workforce, it would be wise to arrange for professional services.
Pick a Durable Flooring
Considering your outdoor kitchen is exposed to dozens of harmful elements, picking the ideal flooring is essential when designing your space. Apart from natural elements, other elements that affect your area include oil or grease buildup, foot traffic, or excess moisture, which promotes wear and tear. Solid and durable flooring options include poured concrete or sealed stone. Your contractor will advise you on the best option based on your situation, while angling will prevent pooling or water damage.
Choose the Correct Appliances
Another aspect you need to consider for your dream outdoor kitchen is selecting the right appliances to guarantee your kitchen's functionality. The equipment installed in your space will significantly depend on preference; you may prefer a grill over a wood-burning smoker. It would be best to discuss the practicality of some of these units with your contractor before commencing the project.
How To Clean and Maintain Your Outdoor Kitchen
Always Clean Your Grills
One of the most significant outdoor kitchen equipment is the grill, and most homeowners tend to think they are self-cleaning. It is easy for you to ignore cleaning your grill gates every time you use your grill, but specialists emphasize thoroughly cleaning all the unit components. You can observe the color of your flame to identify the unit's status; look out for blue flames with a yellow tip for a healthy flame.
Remember the Fireplace
If your outdoor kitchen space has a fireplace, it would be wise to include it in your cleaning routine. Although you can never say your fireplace is immaculate, clearing out debris goes a long way in improving efficiency and maintaining tidiness. You can use a wire brush to annually clean the chimney or contact local cleaning services for a more professional outcome.
Wipe Your Countertops
Countertops are extremely common in built in outdoor kitchen designs, and the only variants include material and size. Granite and stone are good examples of common materials you will find in the majority of the designs. Wipe the countertop surface frequently to eliminate dust and other dirty materials; they look better when clean.
Protect Your Equipment
Protection is another consideration when designing your dream outdoor kitchen. You need to feature basic security features like a glass patio enclosure to protect your cooking equipment and outdoor furniture. Most of these units are waterproof, but it would help if you moved them indoors during rain or extreme weather conditions. A lockable patio door will mean no access to unauthorized personnel, maximizing privacy and security.
Should You Cover Your Outdoor Kitchen?
You don't need to cover your outdoor kitchen since most of the units present in the setup are waterproof and weather resistant. Covering your outdoor kitchen provides extra protection against harmful elements, mainly if your space includes an open-air kitchen. Note that even weatherproof equipment will begin showing degradation signs after some time because of exposure to moisture or cold. Seek to use weather-resistant paints by reaching out to professional stucco painting services.
This article shares built in outdoor kitchen designs that you can use to guide your quest to develop your outdoor space. If you are keen on the information shared here, you are guaranteed satisfactory results that meet your expectations.