Which Outdoor Kitchen Design is Best For Your Home?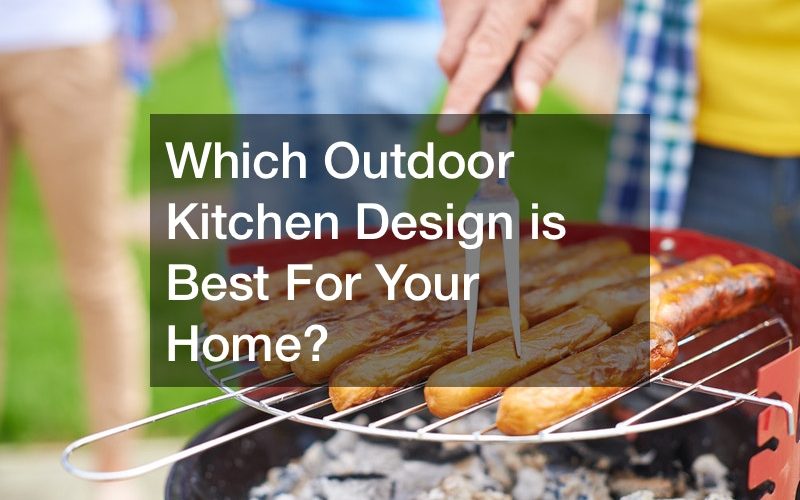 One advantage when designing your outdoor kitchen is that you will get to use the same appliances and materials as the ones installed in your interior kitchen. This will save you money while also giving you a high-quality experience while cooking outdoors. If the space is limited in the outdoor kitchen and patio designs plan to include all appliances, then having them close by to the existing kitchen is better than not having them at all. If you need to get something from inside the house, it will not be much effort either. There are some tips to help you choose which outdoor kitchen and patio designs are suitable for your home use. Here are some guidelines:
Create a Zoned Kitchen
When designing your outdoor kitchen, it is important to create areas with different functions or uses within your kitchen. For instance, if you have a gas grill installed on one side, then having another cooking zone equipped with charcoal grills will give you more choices when cooking outdoors. Also, consider an area to make your beef burgers. Separate the breakfast area from the dining area by ensuring your outdoor kitchen comprises a dining table and chairs from reputed furniture stores.
Another idea would be to have a coffee counter with bar stools. Have an ample cooking area. The cooking area is an essential part of all outdoor kitchen and patio designs, and in fact, this is what people will use the most when they want to cook outdoors. Ensure you have adequate space in your outdoor kitchen for pots and pans, food items, and other essential cooking equipment like spice racks and cutting boards. You can also add additional units like microwaves or refrigerators if enough room is in the kitchen's design plan.
Create a Comfortable Area
Your outdoor kitchen should have seating areas that are comfortable for everyone that will be using it. There should be enough chairs around the table so everyone can sit together without feeling cramped; this will make spending time outdoors more enjoyable, especially during long summer days. Once again, adding chairs or stools to any area of your outdoor kitchen design will make this space conducive, especially if you will be spending long hours there. Another part of enhancing comfort when using your outdoor kitchen that often gets overlooked is the lighting. Installing high-quality lighting fixtures in your outdoor kitchen can create a friendly atmosphere for cooking, dining, or just hanging out at nighttime. Good lighting also makes food look better, and it also helps brighten up the area so you can see what you're doing more clearly. LED lighting might be overkill, but having smaller lights around the perimeter adds to the overall ambiance without making everything too bright to look at.
Consider the Movable Kitchen Cart
The best outdoor kitchen is one that can blend in with the surrounding landscaping, offer plenty of counter space and storage, and, most importantly, provide a barbecue grill. But it does not have to be just your typical patio grill or built-in either.
The perfect solution for those who like to pack up and take their kitchen with them is having a convertible outdoor kitchen on wheels. The spacious countertop provides plenty of space for preparing meals while still having room for your grill plate, large sink, dishwasher, cooktop, stovetop, refrigerator/freezer combo, pot rack, and more storage options.
The convertible patio table and grill is not only the size of an average dining room table, but also has a built-in grill that can be taken out or put away at any time! It converts into a dining table by simply flipping over the countertop.
It has plenty of cabinets to store all your tools and dishes. And if you do not want it taking up space inside, lift the tabletop, and it becomes a grill stand.
If possible, try to include appliances that are portable enough, so they will not take up much space when not being used. For example, having a portable grill can be helpful, especially if you want to move it closer or further away from your outdoor kitchen, depending on the occasion. Having grills and appliances placed on wheels will not limit where you can place your outdoor kitchen as well.
Ideal Color Scheme
The design of your outdoor kitchen will be a creative and artistic expression. There is no right or wrong way to design an outdoor kitchen. You do not need to follow any rules or standard guidelines when choosing outdoor kitchen and patio designs, but there are some common characteristics that most people choose in their designs.
Whether you want to cook all the time outdoors, just on weekends during the summer months, or only on special occasions such as parties and get-togethers with family and friends, having appealing outdoor kitchen and patio designs can add immense value to the home's resale value when compared to adding a room to your house. The first thing most people notice about the design of an outdoor kitchen is usually its color scheme or accent wall. You can picture yourself cooking in your outdoor kitchen, so choose a color scheme that will be inviting and comfortable.
Proportional Floor Area
The next thing most people tend to notice about an outdoor kitchen is the proportion of floor space compared to indoor kitchens. If you plan on cooking in your outdoor kitchen all year round, you should design your space accordingly. A common mistake among homeowners when deciding their outdoor kitchen and patio designs is making them too large for their needs.
The optimal size of an outdoor deep fryer or grill tends to be between three to five feet by four to eight feet. Any more significant than this may seem awkward when not in use, and any smaller might not accommodate all of your appliances or fit all of your cooking utensils properly after installation and plumbing repair.
Consider Adequate Storage Space
Most homeowners consider storage as the last thing when choosing outdoor kitchen and patio designs. It is crucial to identify ideal storage solutions for various items used during grilling. The number of items stored inside the house before using your outdoor kitchen may surprise you, so it is best if there are designated places to store these items where they will not get lost or ruined by weather conditions.
Keeping your space clean and organized in this way will also keep it looking well-designed and prevent guests from feeling cluttered while trying to enjoy their time in the space. Most properties engage arborist companies to help with landscaping designs.
For a clean outdoor kitchen and patio area, you should hire an ideal pest control company to help you take care of your wood fences after a fencing installation, as well as other plants in your landscape design. By keeping off the pests, you promote plant health for the items growing in your kitchen garden. Consider gutter installation to promote storage of water for use in your outdoor kitchen. Consider including a refrigerator in your design when trying to settle for the best outdoor kitchen and patio designs for use all year long. A refrigerator provides an additional storage unit when food is being prepared in the outdoor kitchen or when leftovers need to be put away that can work efficiently after considering residential solar panel install. Install an ideal solar panel system and enjoy the use of your outdoor appliances.
Many people also enjoy having store-bought beverages outside with them while cooking and eating, so it is best if there is a place to keep these items cold until they are opened. For homeowners that choose not to include a refrigerator or additional storage units inside the house for their outdoor kitchen and patio designs, there are many options available on the market for building one into the design of your outdoor kitchen area.
Equipped With the Right Appliances and Cooking Ware
The next thing that most homeowners consider in selecting outdoor kitchen and patio designs is the appliances that will go in them. You do not have to stick with just one type of appliance, but generally speaking, a gas barbecue grill will work well on one side of your grill and a deep fryer on the other. However, an outdoor kitchen should include only one major appliance that serves multiple purposes, such as a grill or stovetop range for optimal resale value.
If you are designing your outdoor kitchen to be used all year round, think about including cookware in the design of your space. Many people find it easier to have cookware hanging on racks above the cooking surface, so it is always ready for use, while others prefer storing their cookware inside the house and bringing out what they need when they are ready to start cooking. If farming utensils are being stored in your outdoor kitchen, consider adding hooks onto walls or cabinets specifically designed for this purpose, so there is an aesthetically pleasing place for them each time they are used.
If you plan on using your outdoor kitchen only during certain times of day or year, think about including removable covers in its design so they can fit over appliances or cookware when not in use. If you need to take everything entirely out of your outdoor space to make a cover work with the overall design, doing so is probably not ideal for your space. However, suppose you can incorporate removable covers into your outdoor kitchen and patio designs without them looking too bulky or unappealing. In that case, they are worth considering keeping items hidden when necessary.
Once you have determined the appliances and cookware that will be used in your outdoor kitchen, think about adding lighting to the space to help illuminate it at night and during the early morning hours. Many homeowners like to light their outdoor kitchen and patio designs off until they are ready for use, not disturbing neighbors or attracting bugs into their space. Others prefer a more practical approach and leave their lights on all day and night. If bug zappers are included in the outdoor kitchen and patio designs, consider placing them away from seating areas, so that they do not discourage guests from using your outdoor kitchen area after sundown.
When designing an outdoor kitchen, most people include seating around the grill so friends and family can join in when the grill is in use. Many homeowners like to include tables or seating areas outside of their outdoor kitchen spaces for this exact reason. Another popular seating arrangement is to incorporate benches into the design, so there are places for people to sit and chat while waiting for food to finish cooking. The size of your outdoor kitchen will determine how many seating arrangements should be included in its design.
Add Grills and Fire Features
Having an outdoor fireplace or grill around your meal preparation area is always nice; it adds to the overall ambiance while also adding practicality, because you will be able to grill food outdoors. You can enjoy sitting around an open fire or cooking something on a blazing hot grill; either way, having this option will make your outdoor kitchen even more helpful to anyone who wants to spend time outside.
When planning an outdoor kitchen space, think seriously about how much actual cooking you will be doing within the design itself. If most of your grilling will happen on the deck beside the grill rather than inside its borders, installing a countertop surface is more of a luxury feature and is not entirely necessary. Depending on the types of utensils used in your space and other appliances included in its design, it may also not be possible to add countertops which could limit what you are able to do while cooking in your outdoor kitchen.
Add Your Flair
Do not limit yourself when choosing outdoor kitchen and patio designs; always think of new ways to improve their usability and appearance. For example, if you are really into grilling during summertime, then investing in multiple high-quality grills will be worth it in the long run; maybe there is room for another table or some chairs placed closer together so friends can chat while waiting for food to be ready.
Just remember that the more you include in your outdoor kitchen and patio designs, the more beneficial it can be; at the end of the day, you are designing this area not only for yourself but also for everyone who will enjoy using it after you have gone out.
Outdoor kitchens and patio designs can result in a gorgeous addition to your home and one that most homeowners enjoy having use of all year round. Make sure you have good space planning and organization skills, so every inch of your outdoor kitchen is functional and well-designed when completed. Since there are many things to consider when designing an outdoor kitchen, using these tips will ensure your space comes out looking like everything you had hoped for and being an asset to your home rather than a wasted feature that does not get used.