10 Small Loft Apartment Design Ideas for Your New Space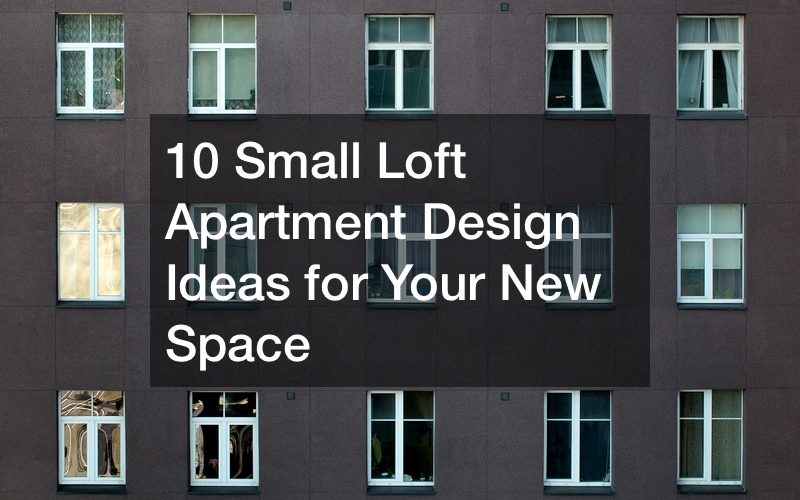 Loft apartments are perfect for achieving that ultimate urban lifestyle, where the chaos of city living is part of an endless backdrop to your new home. The small loft apartment design ideas you'll find below will guide you in giving personality and style to your apartment.
Repaint the Kitchen a Neutral Color
So you've decided to move into a loft apartment and start living in the city. But now, you face a dilemma. You can't decide which of the small loft apartment design ideas to apply to your kitchen. Neutral hues are always a safe bet because they can match pretty much anything without making too much impact, which is why they work well in small spaces with multiple functions or for those who aren't sure what direction to take their decor.
Before you roll your eyes, neutral doesn't have to be boring. It can make a dramatic statement if you know how to make the colors work together with contrasting elements like patterns or textures that are daring enough for you. The key is to make a statement without making it the focal point of your room. For example, a chocolate brown can be a great backdrop for unusual objects like glass sculptures.
At the same time, salt and pepper shakers in rustic copper lend an organic quality to modern kitchen cabinets. The texture is also an easy way of bringing color to life in your kitchen. If you choose a neutral hue with a matte finish, add bold patterns in glossy materials and painter rags. Paint is probably the easiest way to update a kitchen with minimal effort and cost, but there are other options, too.
Install a Two-In-One Shower and Bathtub in the Bathroom
Installing a two-in-one shower and bathtub in the bathroom is one of the greatest small loft apartment ideas for your new space, especially if the space is not big enough. Hiring a plumber to install this kind of unit will surely maximize the bathroom space because it has dual bathtubs and a shower. It is very spacious with lots of shower sprays for the water to pass through. Installing this kind of unit is very practical because you can save time and energy when using it. It has both shower and bath functions, so you do not need to spend too much time washing.
It also prevents wasting water since you only spend less than five minutes in the shower. This is a great solution for the modern and contemporary limited space which most loft apartments have. This kind of unit also brings an elegant touch to your bathroom, making it even more functional and stylish. The head of this kind of unit can be changed depending on your preference, such as shower only or bathtub only. Having this kind of unit in your bathroom is also beneficial since it can help you relax by using both functions for either shower or bathtub. Nowadays, there are many designs and styles for this kind of unit you can find in the market. It comes in different colors and materials as well. This will surely fit your existing décor, or it can also be a great match to your new bathroom design.
Build a Window Seat With a Storage Compartment
One of the outstanding small loft apartment design ideas is to build a window seat with a storage compartment. The idea behind this is to maximize small space and keep the loft bedroom clutter-free. This also increases the seating area in your room and creates an urban architecture feel into place at the same time. You can put all kinds of things that you want inside the storage compartment, like extra blankets.
It might be a little complicated to build this type of window seat, but it is not impossible. If you have some carpentry skills and all the necessary tools, you can do it yourself without calling anyone else for help. You should opt for this type of design for your loft living room provided it is not close to the furnace. This means that you can use the small space to place something else like a seating area or a plant. What is more important about this type of window seat is that it can double as a storage unit whether you build it with drawers or shelves.
Add a Tasteful Wallpaper Design to One Wall In Your Apartment
If you want to know the small loft apartment design ideas that can transform your space, then you should consider adding a tasteful wallpaper design to one wall. You could either pick just one wall or have an accent wall that contrasts the other walls in color and texture. It could be in the bedroom, in the living room, or in the kitchen. It's up to you and depends on how much time and money you want to spend. If you're on a budget, you can go with large-sized wallpaper. If you have more money to spend, go with the real thing, like wallpaper painted on both sides.
It's an idea that could make your small loft apartment look bigger. This would give the illusion of more space, but it would cost quite a bit since you're doing twice as much work. As for the other walls in your small loft apartment, you could paint them with dark colors, which will tend to suck light into itself. That's one way to make your small loft apartment look larger. It's simply a matter of picking darker colors than lighter ones. Along with that, you could perhaps go for diagonal stripes on your walls.
Create a Reading Nook In an Unused Corner
If you live in a tiny apartment, creating a reading nook might seem to be one of the small loft apartment design ideas that are difficult to implement. A small apartment means a lack of space in most cases, and, normally, you will try to allocate as much space as possible for your daily activities. However, creating a reading nook will give you great benefits in the end, especially when you feel sick or too tired to go out for a walk. Allocating a corner for a reading nook is a good idea, especially when you have lots of windows in your apartment. The light coming from the windows can give you a great space to read at any time.
If you have a small loft apartment, it's best to consider creating a reading nook and subscribing to audio books from an authentic audiobook publisher. This way, you can create a space for an oasis with all the comfort and style you need. It's important to understand that you don't need a large space for creating a comfortable and stylish reading nook. You need an unused corner, which you can decorate with the items that you already have in your apartment. A small table and two chairs might be enough if there is no space for a large table.
Place Plants Around Your Loft for Aesthetic Purposes
Placing plants around your loft is among the top small loft apartment design ideas that can bring life into your living space. Not only do they help you to decorate your place, but they also give it life and character at the same time. Plants also serve as a natural air filter and will help improve the air quality in your apartment. They provide you with a relaxing place to rest and even reduce stress levels in your life. Many designers choose to use plants in their renovations, creating an aesthetically pleasing environment. When it comes to design ideas for small loft apartments, adding some greenery is always good.
The presence of nature has been shown to positively affect the human body, especially when it comes to stress levels. Although not every plant will be suitable for your home, there are many different types available. You may also wish to grow some of your herbs and vegetables, as they can help to improve the quality of food you eat. A few of the most popular types of plants include bamboo, cacti, and succulents. You can even use a hanging basket if you do not have much floor space to spare. To make your apartment feel larger, try placing some plants along the hallway. This creates an illusion of more space and also prevents the area from feeling too closed off.
Turn an Unused Wall Into a Bookshelf
Designing a small loft apartment is one of the most challenging tasks, but it can be done if you know some of the small loft apartment design ideas that exist. An unused wall turned into a bookshelf is an excellent design idea for small loft apartments. If your living area is not too big, this would be the best thing to do. Turning your unused wall into a bookcase can be very rewarding since it would help you maximize your limited space. This idea is useful for small loft apartments where space is minimal, and other things must also fit in.
It would give more storage and add an artistic value to your apartment's overall look. You would need to prepare some tools and materials before you start on this kind of project. Look for a sturdy bookshelf, which is usually already fixed with screws and brackets to the wall. This will make your job easier for fixing it up. Make sure that the bookshelf has proper dimensions that can fit into the space available. A bookshelf unit with a modern design would also be a good choice to make. You can find one on the internet or from some home improvement shops that import household items through a reliable shipping company.
Incorporate Natural and Soft Lighting
Adding natural and soft lighting can be a good design idea for a small loft apartment. Incorporating all the small loft apartment design ideas will make this space look spacious without feeling too empty. More exposure to natural light will make the space feel more spacious, brighter, and airy. Leaving out the windows open for natural light to come in will be a good idea. It is also important to seek the advice of a competent electrician when it comes to incorporating soft lighting in a small loft apartment. The aim here is to create a romantic mood while preserving intimacy; adding dimmer switches for lights will be a good idea. Perhaps, making use of versatile floor lamps can be a good idea.
Having this soft lighting source in the space will help bounce off the lights around the room, creating a cozy environment, especially if combined with bookshelves or other storage units. As long as the foundation of this design is provided by natural light, incorporating this soft lighting can make this space function better not just for reading but also for other activities. The main objective of good design is to make any space feel like it has everything you need within easy reach, creating a comfortable environment where you and any guests you have can relax and unwind.
Thrift Trendy Furniture for Your Living Room
Everyone who lives in a small apartment dreams about having more places to accommodate the guests, but the living room is always an issue. To make it bigger, you can apply small loft apartment design ideas that are recommended by most interior designers. The best way to create unique furniture for your small living room is to go to thrift shops or flea markets and look for a piece of trendy furniture that can be transformed into a stylish unit. The most popular way of combining furniture is to buy a unit with built-in storage and a fixed sofa, so changing the upholstery or adding pillows is the only remaining thing.
The most important part of this design idea is to pick the right color palette. You can use bright colors to draw attention, but it is better to match neutral shades like black and white. The most popular pieces of furniture that you can turn into a great sofa are a futon and an ottoman or pouf. You can also seek the opinion of a home improvement professional to come up with the best idea. Here, the possibilities are endless. You can change its size and color — and even go for a marbling look — or fix it with different pillows and rugs to create a unique living room design idea.
Paint a Headboard Behind Your Bed to Save Space
A small loft apartment can be a cozy and comfortable place to live, but only if you apply some of the small loft apartment design ideas that have proved to be practical. Before designing your bedroom, though, enlist the services of bed bug exterminators to ensure your bedroom is critter and rodent-free.
When designing your small space, you should always focus on making the room as functional and beautiful as possible. For instance, if you have a small bedroom and you want to create an inviting atmosphere, you must find the right design for your headboard. One option that you might want to consider is painting a headboard behind your bed. This could be an interesting design idea that will add character and charm to the bedroom while making it seem larger. First, you should consider the design of your headboard.
You can paint a basic headboard or add other unique features, such as painting decorative lines and shapes on the wall. If you want to give it a natural feel, choose paint colors that reflect the colors of nature and make your small room feel like part of the outdoors. For a more modern design, choose a bold color that matches the interior décor of your bedroom. You can also play with the texture of the paint by using different colors for each layer to create a beautiful design. Once you decide on your headboard, it's time to start painting. You should choose paint that reflects the color you chose for the top layer. Use different tools to create various effects to enhance your headboard design.
Having a small apartment can be quite challenging, and it might feel like you need to live out of a shoebox until one day you move into a bigger place. However, with the help of some creative designs, you can get a bigger, more open feel to your space. The key to this is understanding the principles of design and then applying them to your apartment for an uplift in appeal and functionality.