What Sets The Most Reputable Solar Companies Apart From The Rest?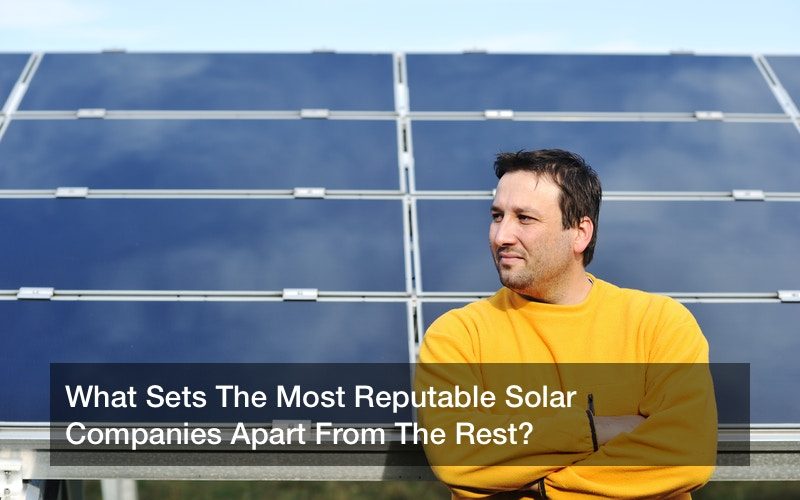 The demand for renewable energy has been soaring in the United States and other regions of the world because of the need to protect natural resources. That is the reason solar companies have been growing at a higher rate compared to other industries. Everyone wants to know the most reputable solar companies so that they know where to seek solutions.
The residential solar PV market was projected to be around $4.7 billion by Year 2016. It is because every solar company is trying to come up with solutions that provide more benefits to the consumer while improving the energy sector as a whole. To know about the reputation of such companies, you have to consider the following factors.
Availability of a Variety of Solar Solution
The most reputable solar companies are those that provide a wide array of solutions for consumers in a market where needs keep changing and increasing. There is no doubt that people use their solar panels for different needs including heating water, lighting, heating the swimming pools, and many other needs. Therefore, all these people expect the company to have the perfect solutions for them.
The companies that have been around for longer have mastered the art of providing every solution for their customers, and therefore, you do not have to search elsewhere whenever you need something new. However, some are only starting out, but they also have the potential to provide the kind of quality that every customer would wish to find in a solar panel. Therefore, whether you are looking for swimming pool solar heating systems or lighting solutions, you are always sure that you will find them.
Adequate Energy Storage Capabilities
Apart from the assurance that you have a system that will provide you with energy for all your domestic needs, you should also get an assurance that you can store the energy for bad days. We all know that the sun does not shine in equal quantities on all days, and so, there are days when there may be no sunshine at all. On such days, the most reputable solar companies have their customers covered through various energy storage solutions.
Off grid energy storage is one of the solutions for people who want to ensure a steady supply of solar energy even during the coldest days of winter. As you will find out, different households have different energy consumption rates, and that is the reason they all need different storage capacities. The best thing is to talk to your favorite company and find out if they can meet your demands.
Financing Options for Consumers
Not everyone has the power to buy solar panels from their savings, and therefore, they will be looking for companies that provide them with alternatives. If you look at some of the leading companies, you will notice that they have special plans for government employees, private workers, business people, and many other categories. When it comes to finding the most reputable solar companies, you should be thinking about those that will give you a payment plan that suits your financial situation.
When choosing a solar financing program, the company will look at your needs from all perspectives before coming up with a solution. For instance, there are those that have partnerships with established banks so that when you need financing, you will not have to search too much. In addition to financing, they should have other incentives such as a bonus for those who pay within time or after sale services that may include installation and maintenance.
To sum it up, finding the most reputable solar companies requires you to look at every aspect of their products and services. If they can give you the right solar solutions and give adequate energy storage facilities in addition to providing a financing program, you are good to go. You may also want to check their rating on various consumer platforms to know how they relate to their long-standing customers.