6 Areas of Your Home to Focus Your Remodeling Efforts On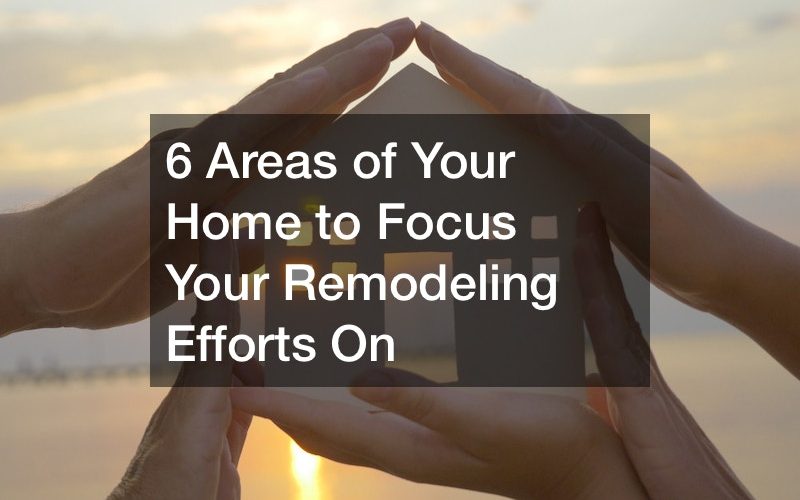 Are you a homeowner ready to remodel your home? Have you decided what all of your home remodeling needs are just yet? If you want a beautiful home that has all the features you've desired and all the modern upgrades, here are some luxury home tips you should focus on.
1. The Kitchen
The kitchen is the heart of any home, so it must look its best and be as functional as possible. Kitchen remodeling is the most popular type of remodeling most homeowners do annually. The popularity of upgrading the kitchen isn't shocking since it's a room that has so much usage, raining from storing and prepping food to eating and entertaining.
One of the best luxury home tips for a new kitchen is to install a custom countertop. Here's Granite has remained the number one countertop in American homes, and with good reason. This beautiful natural stone is extremely durable since it's one of the hardest stones on earth. Your granite countertops will always be unique since no two slabs of granite stone are alike. In terms of upkeep, you need to seal granite every few years, but then you'll have countertops that will last at least a couple of decades and symbolize luxury.
No kitchen remodeling professional will avoid looking at the cabinetry. Cabinets are your main source of storage and come in a range of designs. Go with traditional cabinets or more modern with a sleek minimalist look. Take advantage of color trends, such as darker cabinets that create a more moody and sophisticated look in the kitchen. Current cabinet designs are also used to hide appliances like refrigerators and dishwashers. If you don't want your standard cabinet, invest in floating shelves made from glass, metal, or wood. Consider one continuous floating shelf that extends all around the kitchen, as seen in some popular decor magazines.
With so much activity going on in the kitchen, you should ensure your floors are safe. After all, slips and falls can easily happen in your kitchen with all the liquids, food, and cleaning going on. You can invest in any type of solid flooring for your kitchen, such as stone, wood, vinyl, or tile, but make those floors safer with epoxy seal coating. Epoxy sealing can last for a few years and make floors easy to clean as you only need to sweep and mop over them. This coating is transparent and not only makes any floor safer to walk on but protects them from stains and damage so they last longer.
Repairing or buying new appliances are standard in luxury home tips. How could you have a kitchen without a quality refrigerator, oven, stove, or dishwasher? Let's not forget about your smaller appliances that can make kitchen prep so much faster, such as your food processors, blenders, and coffee makers. Upgrading kitchen appliances can save your home budget a great deal. In addition to saving on energy bills, your carbon footprint on the environment can decrease. Your appliances use a great deal of energy and continue to use energy even if you keep them plugged in. Check into Energy Star appliances, which will reduce your energy consumption by as much as 20%, according to CNET.
2. The Bathroom
A residential bathroom remodel is the second most popular type of upgrade project. In addition to your kitchen, your bathroom is a space that you'll use every day, often several times a day. So you need a bathroom that is efficient, comfortable, safe, and can suit all your needs. When it comes to luxury home tips for bathrooms, the first focus is often on showers and tubs.
If you have a shower-tub combination, bath remodeling companies can separate the two, so you can have a more optimal experience whether you shower or bath. A separate shower allows you to run shower tiles down to the floor. Lose the shower curtain and install a custom shower door in any material or design. With a separated tub you can also replace that with a better one such as a deep claw foot tub that allows you to have a spa-like soak that enhances relaxation. A claw foot tub also adds vintage elegance to your bathroom.
Most bathroom remodeling companies would also advise you to work on your fixtures. New bathroom fixtures both add to the aesthetics and help conserve water. Dual flush toilets only waste slightly more than one gallon of water with each flush compared to the standard five gallons of typical toilet waste, according to the EPA. Plumbers can upgrade your shower so you can have multiple shower heads that conserve water but still deliver high water pressure. So enjoy your rainfall shower with no guilt.
Do you live in an area that has seasonal weather with harsh winters? If so, it may be difficult to walk on that cold bathroom tile as you get ready in the morning or the evening for bed. Ease your discomfort by taking advantage of luxury home tips such as heated floors. When you install engineered wood in your bathroom, you have flooring that can take on water-based heating underneath. So your bare feet can touch the floor in comfort. Such beautiful flooring resembles hardwood, comes in different designs, and it's safe to walk on.
Don't forget about making sure your bathroom has proper ventilation. With constant steaming from the shower or hot baths, your bathroom is ripe for mold and mildew. If you don't have a built-in ventilation system, bathroom remodelers can add ventilation fans or kick things up with a window installation. A bathroom window allows you to take a relaxing bath while watching the moonlight, shower in the morning as the sun's rays wake you up, and ventilate your bathroom enough to prevent mold and bad smells.
3. The Basement
If you have a home with a basement, you have several luxury home tips to consider. The basement is no longer some dark, dingy room at the bottom of the house that people forget about unless they need a spot to store things they don't use. That's why your home remodeling efforts this year should include basement foundation repair. By reinforcing your basement and ensuring is properly waterproofed, you can make sure that water and pests don't invade and make it vulnerable. A properly insulated basement adds to the overall insulation in your home as it can prevent heat loss and prevent your HVAC from overworking itself.
Just like your bathroom, your basement is highly susceptible to humidity, so upgrade your basement by installing an emergency exit window or door. A humid basement is a basement that can become a breeding ground for mold, which threatens your family's health. In addition to adding ventilation to that space, it adds natural light and a safe exit in case of a fire, flood, or other situation where you and your family must exit quickly.
Once you have insulated your basement and installed an emergency door, you're taking steps to create a viable living space that increases its overall value. Have an additional room in your home for entertainment, office, library, or spare bedroom. You can also quickly get your initial investment back and then some by renting out your basement as a separate living space on sites such as Airbnb, Booking.com, and VRBO.
4. The Living Room
When it comes to luxury home tips for your living room, painting may not be the first thing that comes to mind, but it's where you should start. After all, before you invest in furniture, you should have your walls properly painted so you can then comfortably move in any plush furniture or decor you need. According to Bob Villa, interior painting work can have a 107% ROI. If your existing living room walls have cracks, holes, or dents, interior painters will repair any damage and smooth and clean down those walls. Once they add their professional high-quality paint, those walls will look new again.
Once the paint has dried, it's time to look into some new living room furniture. Consider starting with the woodwork of the Amish. Amish furniture is known for its craftsmanship, and attention to detail, especially when it comes to tables. Modern Amish furniture is now even incorporating other materials such as metal and sometimes glass.
Does your living room have an old carpet that is creating nasty smells and has unsightly stains? If so, it's time to invest in professional carpet cleaning services that can deep clean your carpets and get rid of any lingering dirt, mildew, or mold. However, if you're tired of your carpeting, it may be time to finally invest in a hardwood flooring installation. With hardwood floors, you don't have to worry about vacuuming or steam cleaning, you'll have a floor that'll last for as long as a century with proper maintenance. Hardwood flooring is often at the top of the list when it comes to luxury home tips for floor upgrades. After all, it's the type of floor that most home buyers seek out for its beauty, nature, easy cleaning, durability, and eco-friendliness.
5. The Patio
Luxury home tips often include installing a patio. If you already have a patio, then you're ahead of the game as it's one of the most popular home features that homeowners request. Patios add to outdoor living, which more Americans see the advantage of. After all, staying connected with nature from the comfort of your own home has many benefits to your lifestyle. According to Healthline, simply being in nature can provide a sense of well-being and reduce stress. With your own patio or deck space, you don't have to get into a car or walk beyond your home to go to the beach or the park to find nature
To make your patio more comfortable, invest in custom design patio furniture, such as those that specialize in steel outdoor furniture. Stainless steel is durable and beautiful, but it can also prevent pest infestations that can often linger around outside. After all, you want durable furniture that can withstand the elements and that you won't have to replace every couple of years.
Speaking of the elements, your patio is exposed to heat, rain, snow, and any type of weather outside. Add additional comfort by installing manual, retractable, or static awnings. If you live in a place with harsh winters, you may want a patio or deck with an enclosure so you can always enjoy a taste of the outdoors, even when it's snowing.
6. The Home Office
Do you work from home as a freelancer or hybrid employee with a regular company? Are you running your own business and need a designated workspace in your home? If so, you should hire an office installer to help you create the perfect elements for a comfortable workspace. Luxury home tips for a good home office include professional painting and ergonomic furniture.
It's no secret that your painted walls can set the right mood in your room. With a home office, you want a space that allows you to concentrate and be productive. Others, such as Gray and blue, are associated with concentration and focus. If you choose gray walls for your office, you have a neutral color that makes it easy to add more colorful elements by way of your furniture and accessories without clashing.
Any workspace should have comfortable office seating. Invest in ergonomic furniture to support your back if you have to sit for about 8 hours a day. Back and neck pain are the most common reasons people see a chiropractor, but you can prevent that with the right office furniture. So get comfortable adjustable chairs as well as a standing desk that allows you to do your work and get the blood circulating.
With these luxury home tips, you're bound to have success with your remodeling efforts this year. From your kitchen to your patio to your working space, you have so many things to consider. Hopefully, this list will give you a good start in creating the home you've always wanted.