Luxury Landscape Design Ideas for Big Spaces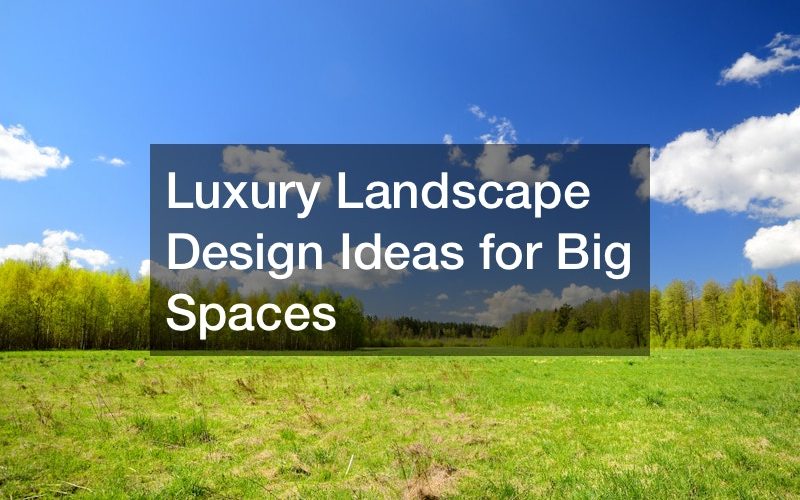 Creating a luxury landscape design for large spaces offers endless possibilities for a stunning outdoor environment. Here are some ideas to transform your big space into an oasis:
Make a statement with an impressive entrance. Consider a grand driveway lined with beautifully manicured trees and shrubs leading up to an elegant fountain.
Incorporate ornate gates or stonework to add a touch of luxury and sophistication.
Take advantage of the vast gardens with a mix of lush greenery, vibrant flowers, and architectural elements. Consider incorporating themed gardens like a formal rose garden, a Zen meditation garden, or a classical European garden.
Create lavish outdoor living areas for entertainment and relaxation. Install an expansive patio with comfortable seating, a stylish dining area, and an outdoor kitchen with all the amenities. Add cozy fire pits or an outdoor fireplace to extend the enjoyment into the cooler evenings.
Illuminate your grand landscape with carefully placed lighting. Use sophisticated fixtures to highlight architectural features, water elements, and focal points. Strategically placed lighting can add depth and ambiance to the space, enhancing its beauty during the evening.
Elevate the luxury factor with artful sculptures and tasteful artwork. Consider incorporating custom-designed sculptures, elegant statues, or contemporary art installations throughout the landscape to add a touch of artistic expression.
These luxury landscape design options involve thoughtful planning and attention to detail. You can transform your outdoor space into a sophisticated, captivating haven that exudes luxury.

.