Simple Home Collection Upgrade Your Interior Design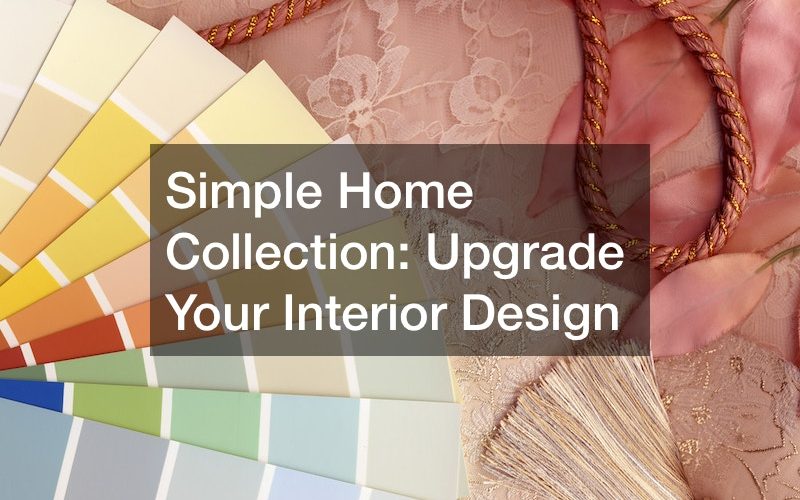 Remodeling your home might be the ultimate dream you've had for a long time. Now that you've finally accrued the funds to do so, you might be feeling stuck or lacking inspiration and ideas. Not to worry because we've got you covered with a list of our favorite simple home collection ideas to turn your normal home into a fabulous one. Carry on reading as we explore some of these tips for you.
Add a Touch of Window Treatment
Window treatment does wonders to turn regular-looking windows into something simply wow! You can also use a window treatment to trick the eye into thinking it's more than what is seen. For instance, hanging curtains higher towards the ceilings will give an illusion of taller ceilings and larger windows. This is an excellent one to do if your space is on the smaller end of the scale.
Other beautiful window treatments to add to your interiors include shutters. Depending on the make, a brand of the window shutters, and the materials used, you can sometimes use shutters not only for adjusting the light coming into your home but also to enjoy security aspects. Shutters are made durable, with some robust enough that you can use them instead of window bars. Shutters are also much better looking than having security bars on your windows.
Tint coating helps keep the sun's UV rays out and eliminates glare bouncing off from one item to the next. No matter the type of window treatment, it provides privacy and many other benefits, including improving the ambiance of your home and making the space look better. Because window treatment is available in so many options, you can match them to suit any decor and style design in your home. From contemporary to modern and country-chic, you can find them and make them work for your home.
Give your Interiors a Fresh Coat Of Paint
Interior house painting does wonders to transform any living space. There is something stunning and revitalizing about coating an old painted wall with a new fresh coat. Even when you're giving it a coat in the same color as before, you can immediately see the walls transform from tired and worn to fresh and bright.
Painting your home can help increase its value and add extra beauty, which is great when you're considering selling. Paint adds protection to your walls, and it also sets the mood or ambiance for the living space. Neutral colors often match everything but a feature wall in a pop of bright color adds some degree of fun-loving creativity.
Use Interior Designers
Interior designers and decorators are valuable folks in the industry of transforming your space. This being your personal living space at home, your interior designer can help you create an ideal look that you'll enjoy every day. If you are redoing your office, the interior designers and decorators can also assist because they can tweak and redesign a space to promote productivity amongst workers, easy vibes with shoppers, and simply an aesthetically beautiful place to be in.
They might be on the pricy side, but using interior design service can save you loads of time, as they summarize what you want and create the ideal concept. They are professional and know what is trending and look great. Interior design professionals will also give you plenty of ideas and ways to transform your home, even if you don't have any idea where to start. Best of all, these designers work closely with their clients to get the correct color schemes, accessories, decor, and finishes that will transform the current space into something their client's going to fall in love with after the big reveal.
Interior expert designers are also good at working with the current spaces available to transform the home. They can make a simple home collection into something superb and worth a lot more than what was paid to install the completed project. Interior designers do measurements and get an outcome where furnishings and decor fit perfectly. They also consider safety aspects when looking to relocate lighting and electrical outputs; needless to say, designers usually have a full team of contractors that cover all their projects.
Add an Extra Nook or Space
If you're blessed with lots of space on your property, you may want to add an additional section like an office or hobby room. A home addition builder can help you build that sought-after extra space you so keenly require. Working with these specialized experts ensures that you're getting all protocols met, including zoning and laws surrounding build features and utility installs. You may even need the home addition builder to design and build an extra living quarter like a little flatlet on the same property, only it functions independently.
Just like architects, additional home builders can also design and draw up plans for you. They take care of all the nitty gritty, so you don't have to. If you've always wanted a garden room, don't hesitate to have it installed and your builder will assist.
Hollywood Inspiration and More
If it's posh finishes you're after, it's poshness you'll get. You can turn your home into the most luxurious space and the "livin la vida loca" you've always wanted from your home. Luxury home builders are all about creating the luxe form and function that you'll see in high-end A-lister areas and homes. It does cost a fortune, but it is worth it for folks who can afford it. Just getting accessories may cost a fortune because of where it is bought to match that creme de la creme lifestyle. Furniture will also add more to your pocket.
However, you don't always have to spend a fortune to make your home look like a luxury penthouse. Instead, your interior designers and builders will work with you and your budget and use the most affordable but durable materials to achieve the goal. For instance, you may want pendant lighting throughout your kitchen and lounge, but you don't need to pay a fortune to get this installed.
Watching Movies From Home
Who doesn't like the cinema experience? A cinema is more than just a simple home collection, it's a personal touch that gives a home that extra sense of chicness. You can bring this experience to your private property by building a theatre room to enjoy yourself with family and or friends. A home theatre install can include all the much-needed cinematic experience featuring great sound, picture quality, and comfortable seating. If you ask us, once your cinema room is finished, you never have to spend a fortune watching certain movies or enjoying the experience. You can save and just enjoy the flicks in the comfort of your home.
The benefits of having a cinema room in your home increase your property's value tremendously. With all the features in, you can just imagine how happy people are to buy this setup, inclusive of the price. It also allows you and your family to have quality time and enjoy watching movies together. You can save in the long run without buying movie tickets each time. You can also watch rentals on stream services like Apple and free movies on other streaming sites like Netflix and Amazon. With your very own cinema, you also have the joy of controlling every aspect completely, you also add a flair of exquisite luxury by designing a fancy room to enjoy the movies from
Swap Our Laminin for Granite Countertops
The thing about countertops is that they add so much character to a kitchen. When you see cheaper vinyl finishes, it just has more of a bleh than a yeah vibe to it. It can also make a kitchen look outdated when the cabinets and counters are all from the 70s still. But with a granite kitchen countertop and new cabinetry, it drastically transforms your kitchen space to an upmarket style. Granite has a gloss shine that makes it stand out as a more premium option than other surfaces that are not stone material.
There are many benefits to choosing granite countertops for your kitchen, including the fact that they are still extremely affordable for all their beauty and robustness. They are heat resistant and you have no need to worry about pots burning their surface as it is with other materials used in low-end countertops. You can also enjoy the durability that is granite, it is resistant to chips and scratches which makes it an even better choice to change to if you haven't already installed one in your kitchen.
Give Your Bathroom an Edge Of Modernity
Few things speak as much volumes for modern design as glass shower doors do. Custom glass shower contractors can help you fit and design some amazingly modern and contemporary bathrooms and wet rooms that you're home shouldn't go without. Walk-in showers always showcase the beauty of glass doors and walls in your shower. You can also say goodbye to the old frame and install a frameless shower instead as it really lifts the bathroom to next-level stylish.
Give Your Bathroom a Makeover
Your simple home collection can include giving your bathroom a complete bathroom makeover. Bath remodelers can help with every aspect of this project. Even if you don't have a clear idea of what you'd like to have your bathroom look like, the bath remodelers can assist you. From vintage free-standing bathtubs to antique-inspired wash basins, ultra-modern showers, and tubs, to imported Italian floor and wall tiles, your bathroom makeover can be whatever you want it to be. Functionality, form, and design are always at the top of the to-do list for any remodeler.
You can benefit a lot when you upgrade your bathroom since the bathroom and the kitchen are one of the most considered areas of any home. From a selling point, the bathroom can already make up the buyer's mind. So, with a remodeled bath, you can be certain that it will help increase the value of your property. You can use affordable, functional, and durable finishes to add to your bathroom and it doesn't have to break the bank if you don't want it to.
Get Beautiful Blinds for Your Windows
As we've already mentioned, window treatments are an excellent choice when upgrading your interiors. You can hire an interior decorator to help with this but even better yet, you can easily do a DIY variation that is sure to improve the way your living spaces look. Blinds can be operated electrically, should you wish; you can use Venetian or roller blinds. You can also pick them in a variety of shades and materials, all of which will suit your home. Your local blinds company will have just what you need.
Simple home collection and makeover has many advantages and upgrading your interiors can help improve the following aspects:
Simple home collection and makeover has many advantages and upgrading your interiors can help improve the following aspects:
Increase the value of your home with a home theater system install and more upgrades, including interior window shutters.
You can make a good ROI after selling, in other words, your investment can increase with time.
It creates a beautiful and ideal living space.
You can make your home attractive for yourself to enjoy.
You can lower your utility bills with added energy-saving equipment and features.
Use your spaces to their maximum and enjoy.
Breathe fresh life into your old home.
Enhance the functionality of your home with improvements.
Did you know that renovated interiors make it better for homeowners to enjoy their place? In fact, some people choose to renovate rather than move from their homes. It can be seen and enjoyed as a long-term investment.
The way your interior looks can emanate the same energy throughout your home. For instance, light, bright, and airy spaces give any space a vibrant, upbeat, relaxing feeling. If it looks dark and dingy, it can set the tone for depression. Work with your local interior designers to help you get the perfect look that suits your lifestyle and character.