Quarterly Maintenance Schedule for Your Home's Interior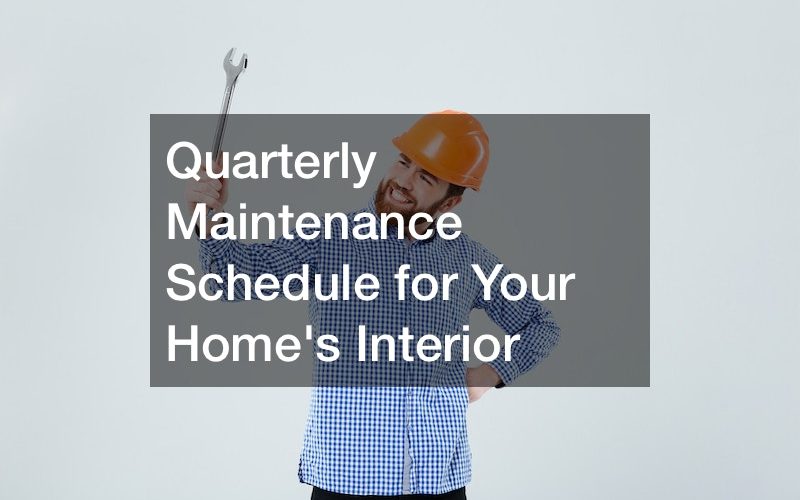 Home maintenance is an important part of keeping any home in good shape. It helps ensure that the home is safe, attractive, and that everything is functioning as it needs to be at all times. If you're having a hard time maintaining your home as a result of forgetting to do some things, you can benefit from a guide. Have a look below at the quarterly maintenance schedule outlined below to get an idea of the important things that you need to stay on top of. This should help you keep your home in a state that will make everyone who visits you envy it!
Plumbing Inspection
Plumbing is an important part of the home, given the frequency with which water in an average house is used. This is why you should prioritize having it inspected and make it one of the top items in your quarterly maintenance schedule. If anything's found to be out of place, it's a good idea to deal with it as fast as you possibly can. When you do this, you're going to do away with the possibility of leaks happening in and around your home.
Keep in mind that a leak, no matter how small, can lead to a lot of water getting wasted. This will prove to be a disservice to your bank account in the end, as well as the environment. That said if you have to get parts for repair or replacement, make sure to pick the best quality so that it will serve you well for a long time to come. It might cost a bit more initially to get the best quality and have a professional do the job for you. But this is the only way that you're going to get your money's worth to the fullest.
Deep Cleaning
A clean home feels amazing to be in and makes it easy for you to spot any issues that might come up at some point. For example, damage that calls for repairs. A clean home also makes it considerably harder for the people living in it to suffer from diseases spread by germs, viruses, and bacteria. These are some of the reasons why you need to add house cleaning to your quarterly maintenance schedule. If you don't have the time to clean the house up yourself or it's in a state that needs expertise, then you need to call professional house cleaners.
Before you enlist their services, find out exactly what they're going to offer you so that there are no surprises awaiting you in the end. If you have any preferences, share them so that you know whether they'll be addressed. Make sure that they're reputable professionals who aren't likely to damage your home or steal things they find lying around. Once your home has been deep cleaned professionally, you may have an easier time keeping it clean yourself before you call the professionals next time to finish the job that they'd started.
Mold Removal
Another important item to add to your quarterly maintenance schedule is mold removal and remediation. This should be done on an urgent basis if you live in an old home or one that's at a high risk of suffering from water damage. Mold in the house is prone to damage soft furnishings, stain finishes, and release spores in the air that can cause serious respiratory issues. This is why you must do your best to make sure that your home isn't likely to develop mold, and if it has already, deal with it right away.
If you have mold issues predominantly in the basement, this is a sign that your basement is more humid than it should be. In this case, you have to call a local basement waterproofing company to help you fix your wet basement issues. Try to get to the root of the matter so that there's no chance of something getting out of hand in the future. If you can get rid of things like carpet and soft boards that love to absorb water in your basement, you may make it harder for mold to grow and spread.
HVAC Maintenance
Another crucial thing to add to your quarterly maintenance schedule is AC services. This is because functional AC helps keep the house comfortable and fresh. With frequent servicing and maintenance, your AC will also run very efficiently and so you can enjoy having better control over your home's energy bills. You'll also be able to stay within the requirements of your warranty if your unit is still under the manufacturer's cover.
You can do some of the things involved in taking care of your air conditioning unit yourself, such as changing the filters and cleaning the outdoor unit. More technical fixes will call for the hand of a professional who has experience in handling a unit like yours. They should be able to troubleshoot and get your unit back to form in a short enough time that you won't have to stay inconvenienced and uncomfortable for a longer time than you need to.
Kitchen Update
The kitchen is a space in the home that typically sees a high amount of traffic. Between preparing meals, serving them, and cleaning the dishes up, you can be sure that there's likely one or a few things that can be better. This is why you need to add a kitchen update or two to your quarterly maintenance schedule. It could be that the countertop isn't as easy to clean as you'd like it to be. Or the lighting might leave a lot to desire. Take a look at your kitchen and note down any issues that you feel you need to address and then decide on the ones you'll start with.
When you have the plan to work with, you'll find it easier to work on them. For instance, you might choose to start by getting granite countertops before working on anything else. This is an upgrade that will improve both the function and appearance of your kitchen. You could also change the floor if the current floor is old and worn out. While this might cost you a considerable amount of money, it will prove entirely worth it in the end. This is because you'll have a safer and more attractive floor that doesn't need to be covered or given some other treatment.
Electrical Checkup
Your quarterly maintenance schedule wouldn't be complete if you left out electrical inspections and fixes. Even if you normally enjoy doing things around the home yourself, it's important to leave this one to the professionals. This is because electricians have the training and the right tools to work safely on electrical issues. A good electrician can fix switches that no longer work and replace faulty wiring. They can also advise you on what to do if you want to improve your home's energy consumption by sharing some tips and tricks with you.
If you need to replace anything, a good electrician can do it for you and ensure that your home is in a perfect state. Since there are typically many electrical fixtures in the average home, you may be better off noting down the specific ones that need evaluation and repair. This way, it will be faster for you to get them fixed when the electrician comes over.
Sealing the Home
In order to ensure that your home is comfortable and energy-efficient, it's a great idea to seal it and do away with air leaks in and around it. Doing this might help you keep the energy bills lower as you won't lose a lot of the treated air in your home to the outdoors. For the best outcome, inspect the whole house from the top to the bottom. Deal with every instance of leakage you may find and you'll have a much better home as a result.
In the attic, you may need to fix holes left by pests and rodents or even as a result of weather events. At the other levels, you might have to get a replacement window for missing or damaged windows. These are typically the largest causes of air leaks in the home and so it's a good idea to add this to your quarterly maintenance schedule.
Major Appliance Repair and Servicing
The major appliances that you have in your home typically have an expiration date, and this makes it important for you to remember just when you got them. This, as well as maintaining and servicing them as frequently as you need to, can help you keep them in great shape for a long time to come. You'll also lower the likelihood of an unexpected breakdown occurring. This could leave you and your family uncomfortable for an indefinite length of time and have you spending a lot of money as you'll be acting on an urgent basis.
This means that you need to be aware of the state of the appliances in your home, from your HVAC to the water heater. If you need something like water heater repair, don't hesitate to call a professional to fix it. Any delays lead to the potential worsening of the issue at hand.
Painting Interior Walls
Residential painting is something else that you need to add to your quarterly maintenance schedule. This is because a fresh coat of paint can do wonders to your home, making it look amazing and brand new. If you have the time and feel like you're up for the challenge, you can paint your home yourself. This might give you a sense of gratification even though it's one of the easier home maintenance tasks you might ever have to do. Alternatively, call a professional to paint your home so that they do a faster job and you can get to enjoying your new space sooner.
Landscaping
If you'd like to get your home in a beautiful state both inside and outside, it's important to do landscaping during your quarterly maintenance schedule. This is because a gorgeous landscape can make your home have curbside appeal. It can also help you improve the livability of your outdoor space. This will inevitably make your home more valuable and also more usable for you and your family.
You could take things a step further by adding outdoor furniture and lighting to your landscape. This is going to give you an amazing space to spend time with friends or as a family. Come up with a plan for lawn care as well so that your lawn looks impeccable year-round. When you do, you'll have made it easier to keep your landscape looking well-maintained in the weeks or even months to come.
Driveway Maintenance
Last but not least is your driveway. Given the exposure it has to the elements and the service it provides for you and your family, it's clear that you'll need to take good care of it. This involves fixing any cracks or potholes that it might have developed over time. Remember to seal it after you're done so that you can minimize the likelihood of future damage occurring. If it's in a bad state, you might have to upgrade it all together. In this case, it's best for you to work with an expert. Follow the guidelines that they share with you about how you can keep it in a good state for as long as possible.
Use this maintenance schedule to ensure that your home stays impeccable all through the year. You might have to change your schedule a bit and spend some money to get it all done. In the end, however, it will all be worth it and you can take a breath and relax when your home looks amazing. You might find it easier to spend time at home, as will your family. This way, you might have a great chance of bonding better with your loved ones.