Dont Forget About These Services When Improving Your Home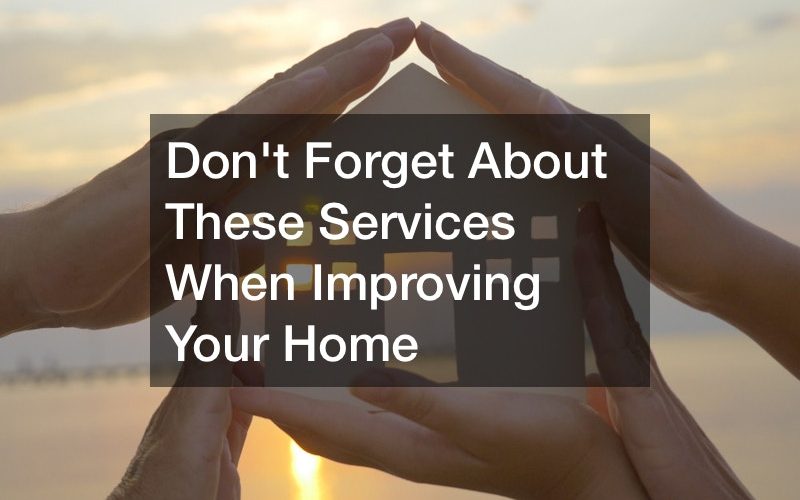 You want to make improvements to your home, but you don't know where to start. You may think you have an idea of what items need to be improved, but it just seems like a daunting task to put it all together. We are here to help with our list of services you should consider when you want to make improvements to your house. Start by reading through this list before you do anything else.

Roofing Services
One of the first residential services to hire you should consider is your roof. It is the largest investment you are going to make into your home. If you have never had your roof inspected or assessed, you should start there. You can contact a local roofing company to come out and give you an idea of what your roof needs. You may not need to replace the roof if there are only minor repairs or a few new shingles. Roofing companies would be best suited to explain your roofing needs. You may want to get a few estimates to ensure there isn't one company trying to get you to buy a new roof you don't need.
If you believe you have a problem with your roof, you don't want to delay contacting a roofing company to find out what your roof needs. If you put it off, the problems will only get worse. Keep in mind your roof is what protects you and the inside of your home from the elements.
Before you do anything else, you should contact a reputable company to determine the condition of your roof. This is the best way to get an estimate for your roof. A contractor takes several items into consideration when making a determination about your roof. These factors include the size of the damage and the age of your roof. In addition, the contractor determines how many times the roof has been previously repaired when deciding if it can be repaired again or needs a replacement.
HVAC Services
When your heating or air conditioning isn't working, it can be miserable for everyone in the house. If you believe you are having problems with either of your systems, this should be at the top of your residential services to hire list. When your HVAC system is functioning properly, it can maintain a comfortable indoor environment. A well-maintained HVAC system can help improve indoor air quality, which is critical for the overall health and well-being of everyone in your home. Poor air quality can contribute to respiratory issues, allergies, and other health problems. In addition, an HVAC system that works well and effectively can help to reduce your energy bills because it is more efficient. If your HVAC system is not working correctly, it has to work harder to maintain the desired temperature. This causes higher energy bills.
Your heating and AC services need regular maintenance to ensure they function properly. When you have maintenance and inspections of your HVAC system, all issues are identified, and address any issues before they become more significant. During an inspection, a technician cleans the units and ducts and replaces all filters. Each part of the system is assessed for leaks or damage. Efficiently working systems allow your house to stay at the same temperature without significant fluctuations.

Paving Services
When considering hiring residential services, you don't want to overlook the asphalt paving on your driveway. Improved asphalt paving adds to your curb appeal, which is essential when considering the home renovations you want. In addition, driveways and walkways are helpful when gaining access to your front, side, and potentially back door. When you contact driveway paver companies, you create not only an inviting entrance for guests but also one that is safe.
An asphalt driveway is a simple black top for your driveway; this is also a low-maintenance option. Asphalt is a durable, cost-effective option for upgrading driveways, parking lots, and other surfaces. It is quick and easy to install and withstand heavy use and harsh weather conditions. It provides a smooth, safe surface for vehicles and pedestrians. It is also a more eco-friendly option compared to others as it is made with natural materials and can be recycled. While it requires minor upkeep, it will need some amount of maintenance. Once you improve the asphalt, you must consider sealing it to extend its life. This helps prevent water from getting under the driveway and potentially causing damage.
Landscaping Services
If you have ever stood in the street and looked at your house, you know curb appeal is everything. When someone drives up to the house, what they see the first time is their lasting impression. The outside of your house is the first thing your guests encounter when coming to your home. It's the first thing you see daily when driving up to your house. So landscape designers should definitely be on your list of residential services to hire.
Landscaping can be difficult and dirty work, and many people don't like to do the work themselves. It typically includes cutting grass, planting flowers, and gardening; it can also mean trimming bushes and trees. Lights, patios, and decks can also be a part of landscaping. A reputable landscaping business can design a landscaping plan, install it, and maintain it for you, so you don't have to. They can handle regular grass cutting, trimming, and weeding. In addition, landscapers may find that you have old trees that need to be cut down or treated.

Tree Services
Speaking of old trees that may need to be removed, tree trimming services are critical to keeping your home secure and neat. Trees can be a significant problem for homeowners, making them one of the top residential services to hire. When you have trees in your yard that are damaged, dying, or just an annoyance, these require immediate attention. It is typically not a good idea to attempt to remove trees on your own unless you have experience doing so.
It is often better to hire tree removal services to help clean up the trees in your yard. When you hire a professional to remove trees in your yard, you are also hiring someone with experience, knowledge, and insurance. Removing trees and falling branches and trunks can substantially damage your home, or you can injure yourself or someone else. This is especially true if you don't have the experience or knowledge to remove or cut back trees. A professional tree removal company ensures they take proper precautions to protect your home and property. In addition, a professional can assess the tree and surrounding area to determine the best way to remove it.
Hardscaping Services
When considering the types of residential services to hire, you may want to consider a hardscaping contractor. Hardscaping is the parts of your landscaping that is non-living. So we are referring to paved areas, walls, steps, and other structures. These structures can be constructed from stone, brick, concrete, or wood. Hardscaping intends to add texture, structure, and function to an outdoor space. It is also used to create borders for the property, create outdoor living areas, and provide walkways and driveways.
When considering the type of hardscaping you want in your yard, you can consider a patio constructed from brick, concrete, or stone to create an outdoor seating area. Retaining walls can hold back soil to create levels and layers in the landscaping. Retaining walls can be made of concrete blocks, natural stone, or bricks. An outdoor kitchen or fire pit can create a more robust hardscaping plan. With an outdoor kitchen, you can add features like countertops, a sink, and a grill. In addition to a fire pit, you can include a water feature such as a waterfall, pond, or fountain.

Fence Installation Services
When you think about residential services for your home, you may want to consider contacting a local fence company. A privacy fence installation is a great want to install a barrier between your yard, your house, and the outside world. A fence is an ideal way to gain a sense of security and privacy. Privacy fences reduce the amount of noise that comes into your backyard from the street or your neighbors. A fence is an ideal way to keep your pets and children inside your yard, and you don't have to worry about them wandering off. They can play freely in their yard without concern about them running off.
A privacy fence enhances your property's overall appearance while increasing your house's value. In addition, they are great at protecting your landscaping and garden from wild animals that can wander into your yard and eat your vegetables. A fence can be as unique as your personal style and preference because of the wide range of styles, colors, and materials from which you can select. This allows you to pick a fence that matches your style, budget, and desires.
Waterproofing Services
Basement waterproofing is a critical task that you should consider to protect your house from water damage and mold that can potentially grow as a result. This should be one of the top residential services to hire for your home. Basement waterproofing can be complex and technical, which makes it the perfect project for which you hire a professional to ensure that your home is protected properly. A professional waterproofing contractor can assess your specific needs and provide recommendations.
Basement waterproofing is more important than you realize when wanting to protect your home and prevent potential water damage and mold growth. When you have a professional identify the source of water, repair leaks, and install a drainage system, it helps to ensure your basement and house are protected from water damage. A professional company also seals the walls and ensures the basement is properly ventilated.
Plumbing Services
Plumbing is definitely one of the areas where you should consider residential services to hire. This is an area that is commonly forgotten about by homeowners until there is a significant problem. However, many homeowners don't know that if they hire a plumber for regular maintenance, the plumbing should work effectively for a long time. It is also advisable not to flush anything down the toilet but waste and toilet paper. While it may seem insignificant, other flushed items, even hair, can cause a huge clog. You should check your pipes regularly for any leaks. Some of the signs that indicate your pipes are leaking include damage or decaying of the pipes. Those are signs of larger problems if you see warping, rust, or drops of water, those are signs of larger problems.Finally, it is a good idea to flush the drain regularly. Even when you flush them regularly, you may notice they are moving slowly and need more regular flushing.
Countertop Services
When homeowners are thinking about the best residential services to hire for their homes, consider upgrading to granite countertops. You will immediately see a return on your investment when you upgrade your countertops. While you may want a complete upgrade to your kitchen, you can start small by upgrading your countertops. You should contact a professional to give you an indication of what options are available for your kitchen. You can also choose to reface your kitchen cabinets and drawers.
If you are looking for another small upgrade for the kitchen, replace the flooring. While hardwood floors are the most appealing, you can choose a resilient type of flooring.
When you think about services you can hire for your home, this is a great list of items where you can start. You probably have a long list of items you want to address, so it's helpful to have an idea of where to start.