How to Refresh your Home with Tiny Chores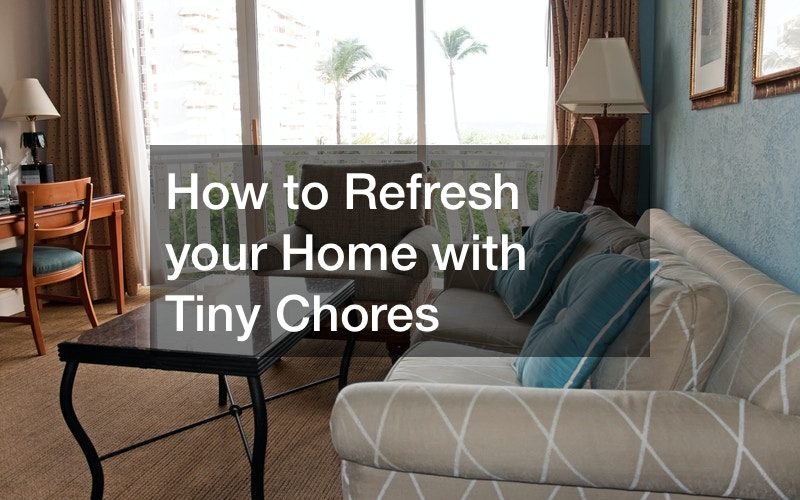 When you spend a lot of time at home, you also have to consider that this places some wear and tear on your house. This explains why there are always chores to do around the home, whether it's doing the laundry or washing a sink full of dishes. If you're looking for a break away from these monotonous chores, you might be interested in ways to refresh your home with tiny chores. The good thing about most of these chores is they don't take much time out of your day, and once done, you don't have to do them again for a good while. Read on to discover how to refresh your home with tiny chores.
Deep Clean Your Carpet
If you make a point of vacuuming your carpets weekly, this is a good start, but your carpets need some deep cleaning from time to time, usually after every three to six months. That's because dirt and grime can easily lodge deep into your carpets, and they can't always be removed by vacuuming. So, deep cleaning your carpet is one thing you should consider when looking for ways to refresh your home with tiny chores. The good thing is that you don't always have to hire a carpet cleaning professional to give your carpet a new lease of life. Instead, all you have to do is make sure you have the right tools and materials.
For effective deep cleaning, you'll typically need a vacuum cleaner, carpet shampooer, hot water, and a carpet shampooer solution. The first step is to vacuum the entire carpet to get rid of any debris close to the surface. Be sure to move the furniture and clear away any clutter so that you have easy access to parts of your carpet that are normally hidden. After vacuuming, it's time to use the carpet shampooer. All you have to do is move the machine slowly and carefully over the whole carpet area. You might need to redo this process until the carpet no longer looks dirty. Afterward, make sure you air out the room and leave it to dry overnight. You can then vacuum again once the carpets are dry to remove any remaining debris.
Perform Maintenance On Your AC
Performing regular maintenance on your AC is important because it helps extend the lifespan of your unit and minimizes the need for air conditioning repair. You can refresh your home with tiny chores like air duct cleaning, changing your filter, keeping your coils clean, adjusting your thermostat, and even furnace cleaning. Doing things like changing your filter is necessary because it keeps your unit running at peak efficiency. When you regularly change the filter, you ensure that the AC doesn't have to work harder. Otherwise, a dirty or clogged filter will increase the burden on your system. Changing your filters doesn't take time and fits perfectly on your list of things to do to refresh your home with tiny chores.
Besides cleaning or caching the filter, keeping your coils clean is also great as it prevents your unit from working harder than it should. The important thing is to avoid using a pressure washer as this can damage the components. While at it, you can take a quick moment to trim the shrubbery so that your unit has adequate space to function. If you're still looking for more tiny chores to improve the performance of your AC, you can adjust your thermostat so that your unit has less work to do during the times when you're away. You can also check your ductwork and seal open spaces to prevent air leaks that affect the efficiency of your unit.
Clean Your Roof
Cleaning your roof helps to improve the overall aesthetic of your home while also preventing more serious issues from developing. It can help improve the resale value of your home when combined with actions like hiring roofing contractors for timely roof repair services. Since your roof is exposed to the elements, it can accumulate plenty of debris, dirt, and dust, which, in turn, promotes the growth of moss and lichen. The problem is that moss and lichen can trap moisture, and this can end up compromising the integrity of your roof. So, it's important to clean your roof by getting rid of any debris or dirt that may accumulate.
Before we go any further, it's best not to clean your roof with a pressure washer because this can be damaging to the structure. Instead, climb up to your roof where possible and wear rubber gloves to scrape away the stuff you can reach. You can increase your reach with a vinyl rake to get to the hard-to-reach areas, such as the area behind the chimney and the roof's valleys and snow guards. Generally, the best way to clean a roof is with a gentle washing solution, though the way you clean the roof also depends on the type of roofing material. In most cases, soft washing is a better option than using high pressure to wash your roof.
Deep Clean Your Floors
If you're looking for ways to refresh your home with tiny chores, consider a quick but thorough floor cleaning. This isn't something you have to hire flooring contractors for. All you have to do is know the best type of cleaning method for your floor type. If you have a hardwood floor, avoid using harsh cleaning chemicals. Instead, clean your floors using a mild cleaning solution and a microfiber cloth.
If you have laminate flooring, the most important thing to watch out for is water getting underneath the planks. This is why it's usually better to vacuum the floor or use a dry mop. If there are any stubborn areas, you can spot-clean using a damp cloth but avoid polishing the floor as it can damage the finish. With a linoleum floor, you can dilute dish soap with water and then use a damp microfiber mop. The same applies if you have a vinyl floor or unsealed natural stone flooring.
Power Wash Your Exterior
A quick power wash can help rid your home's exterior of the dirt and debris that tends to accumulate over time. Perhaps you have noticed that your deck or driveway is not looking as clean as it should. The quickest way to remedy this is by power washing your home. This is also a great way to boost your home's curb appeal. The good news is you don't always need to hire a professional to power wash your home. If the size of the job is small, you can easily tackle this task and still have enough time to chill and focus on other tasks. That said, be sure you know how to handle a power washer and do the necessary prep work, such as turning off external electrical outlets and checking the water supply.
Deep Clean Your Mattress
Even if your mattress is in good condition, it never hurts to give it a deep clean. To deep clean your mattress, you'll need cleaning supplies, such as a vacuum cleaner, dish soap, baking soda, a cloth or sponge, and clean water. Start by removing your bedding and pillows and washing them. You should also open the windows to air out your mattress while you're vacuuming it. You can use the cleaning solution to remove any stubborn mattress strains. From there, you can deodorize using baking soda or a spray of essential oils.
Organize Your Kitchen Cabinets
You don't need something as dramatic as new floors to freshen up your kitchen. Something as simple as organizing your kitchen cabinets can do wonders for your kitchen, especially if you aim to remove clutter from the countertops. The first step when organizing your kitchen cabinetry is to remove all the items, whether it's food stocks, cutlery, or appliances. Then clean the inside of your cabinets as well as the doors. Before you add the items back into the cabinets, you should also wipe down each item and check the expiry date to get rid of expired items. If you have too many kitchen cabinets and too many items, consider tackling one cabinet at a time.
That way, you can stick to your goal and still refresh your home with tiny chores without getting bogged down in the task. Organizing your kitchen cabinets one at a time also allows you to optimize the space and get it up to the required cleanliness level. For instance, you can add organizers and dividers to give the insides of your cabinets a neater appearance. Other tips you can make use of when organizing your kitchen cabinets is to place heavier items on the bottom shelf and make sure you keep similar items together for easy retrieval.
Remove Sediment From Your Water Heater Tank
Removing sediment from your water heater tank is one of those things you rarely think about. Yet, it's a relatively small task that can increase the lifespan of your water heater tank. Over time, your water heater tank can experience a buildup of sediment, and this can affect the way it functions. Fortunately, there are several ways you can combat the buildup of sediment in your tank. You can use the technique of flushing your unit, which involves drawing your unit completely to get rid of any floating particles. After draining your unit, you can also do a vinegar soak — all you have to do is pour vinegar into your tank so that it breaks down the sediment.
Let the vinegar soak for a few hours before flushing out the vinegar. Before you perform any of these tasks, make sure you know exactly what you need to do to ensure the safety and effectiveness of this process. For instance, it's important to shut off the cold water supply valve to prevent water from entering the tank during the flushing process. Before you begin the process, you should also shut off the electricity or gas to the heater unit. If you would like to eliminate the effects of hard water on your tank altogether, consider installing a water softener.
Clean the Windows and Window Treatments
You don't always need to look for the best cleaning companies when you can refresh your home with tiny chores, instead. One of those small tasks that you can focus on involves sprucing up your windows and window treatments. While cleaning windows might look like an easy task, it's important to get it right so that you don't waste too much time on this task. The first step is making sure you're using the right cleaning solution. If you want to save money, you can opt for a homemade solution of one part white vinegar to two-part water in a spray bottle instead of buying a commercial window-cleaning product.
It's typical to start with cleaning the inside of the windows. Using a clean microfiber cloth, go over the surface of the window as well as the frame. After that, spray your vinegar and water solution onto the window before drying the window with a newspaper or a clean, lint-free towel. When you're done cleaning the windows from the inside, you can then move on to the outside. Don't neglect the window treatments, whether you have curtains, blinds, shutters, or Roman shades. The best way to clean your window treatments is by reading the instructions on the label.
These are some of the ways you can refresh your home with tiny chores. These efforts are well worth it because they'll leave your home feeling renewed. The truth is that there are plenty of chores that need to be completed every now and then. Focusing on the tiny chores means you're more likely to get things done, especially if you have been avoiding tackling the bigger chores. One last tip: As you can see, most of these tips revolve around cleaning. While at it, you should also take the time to focus on cleaning other areas of your home that you usually don't pay attention to. For instance, be sure to move the furniture and clean those hard-to-reach spots. That's how you refresh your home with tiny chores, the easy way!