Your Ultimate Home Safety Maintenance Checklist for Summer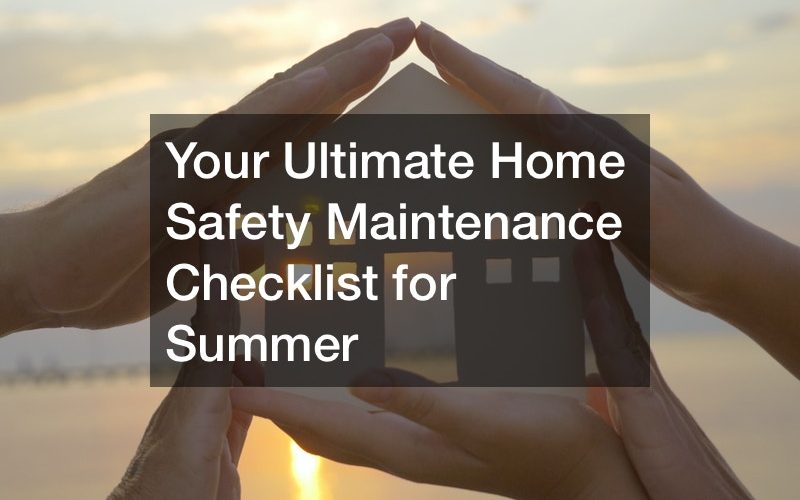 Summer weather is amiable for doing some much-needed cleaning and a home safety maintenance checklist. It is easier to organize a thorough checklist to get through. When the weather behaves, you can call a roofing contractor to conduct an inspection and do the repairs that you have put off until now.
However, if you are having trouble with where to start or how to compile your home safety maintenance checklist this summer, you are not alone. This is why we have created a short list of the things that you should add to your checklist. Keep on reading to find out more.
Change Smoke Detector Batteries

Summer is the ideal time to create a home safety maintenance checklist. To avoid a fire damage claim this season, you can start by checking your smoke and carbon monoxide detectors. Most homeowners forget about the maintenance of their smoke detectors once they have installed them. However, this summer you ought to make sure that you do not skip this important step. Otherwise, you may find that once the chirping noise starts it may be a bit too late. The only option would be to replace it if there are signs of damage.
Ensuring that the batteries are in good condition will help you to maintain the crucial link between your smoke detector and the safety of your family. Many studies have proved that having a functioning smoke detector can save lives. This means that when you install one, your home is safer than one without it. However, the same studies cautioned against leaving the batteries unchanged. When smoke detector batteries malfunction, home fire fatalities can occur. Moreover, you decrease the chances of staying alive during a fire if the batteries are dead or malfunctioning. The batteries of a smoke detector are consistently running to supply power to other components such as the alarm and blinking lights. As a result, if the batteries are not changed, the power supply to these other functions can be interrupted.
According to research, the batteries of your smoke detector need to be replaced as soon as the first warning beeps are emitted to indicate low battery power. Alternatively, you can do a replacement every year or twice a year to increase your margin of safety. The switch from daylight saving time to standard time can function as a reminder to change the batteries.
To ensure that you do the replacement of the batteries accordingly, you can use the configurations that have been created as a fail-safe on the smoke detector. The replacement options will vary according to the type of smoke detector that you have. For instance, some homes have common smoke detectors while others have smoke detectors that are hardwired with backup batteries. While a smoke detector battery replacement is an important part of your home safety maintenance checklist, if the batteries are corroded, it is advisable to dispose of the entire smoke detector alarm system and to get a professional to replace it.
Replace Old Mattresses

If you are wondering if buying new mattresses is part of a home safety maintenance checklist or not, we are here to tell you that it is. The rules may not be cast in stone about how often a mattress needs to be changed. But if you are experiencing any discomfort from the one that you are using, then this summer is most likely the time to purchase a
new one. However, the obvious tell-tale signs of a mattress that has seen its purpose through are observable wear and tear and noisy springs amongst others.
Are you having trouble deciding whether it is the right time to change your mattress or not? Studies suggest that not getting enough rest due to an uncomfortable mattress can be linked to several diseases such as diabetes, heart disease, and kidney disease.
Moreover, the collection of dust mites and other allergens can worsen or cause respiratory conditions in many people. When you are planning out your home safety maintenance checklist getting new mattresses can be something that you can consider. However, if you cannot afford to purchase new mattresses, you can use these tips to clean the one that you have and to make it last longer.
Cover it with a mattress protector.
Ensure that the foundation properly protects your mattress.
Rotate it twice a year to ensure that it gets even wear.
Ventilate your bedroom to combat the collection of dust and mites.
Prevent any damage or creasing of the springs.
Do not jump on the bed. This damages the coils of the springs and other components of the mattress.
Invest in Plumbing Maintenance
Summer means that everyone is keener on using water for different needs. An adequately functional plumbing system is a vital part of a running household. This is why investing in plu
mbing maintenance should be a top priority in your home safety maintenance checklist. Any blockage that may have occurred over the winter can affect the water pipes. If these previously blocked pipes are left untreated they can lead to more serious and costly repairs soon. Regular maintenance is mandatory if you wish to retain the value of your home aesthetically or monetarily.
Are you waiting to see if your pipes can start functioning again without any maintenance done? This is why we have summarized the reasons for maintenance plumbing as follows.
It is a preventative measure to ensure that you prevent future blockages while preserving the lifespan of your pipes.
The build-up of gunk in the pipes is controlled. This can make a huge difference in the water pressure around the house.
It can save you money on expensive and serious repairs.
If you need help with your septic pumping or any other plumbing maintenance issues, you can use search engines to look for "plumbers near me".
Clear Out Clutter
Is it clutter or are you not into a minimalist lifestyle? What you call it does not matter, however how it affects your life and health is what is important. Did you know that clutter can cause respiratory issues? The Alliance for Healthy Homes found that homes with clutter can amplify respiratory problems. Moreover, pests like dust mites love the ideal environment that clutter creates for them. To give you a better understanding of the effects of clutter in your life, we have provided you with the following.
Clutter can make you feel stressed out. Studies suggest that people who live in homes with a high amount of clutter have higher levels of cortisol which is the stress-causing hormone.
When your stress levels are high, you may want to eat more. Clutter can affect your eating habits.
The increased stress levels can expand mental energy which can make you feel extremely exhausted.
When your mental energy is depleted it can affect other areas of your life such as decision-making. This can leave you frustrated and erratic.
It is physically dangerous because of the potentially hazardous stumbles that can lead to accidents.
If you are having trouble with deciding what to do with all of your clutter, you can use storage services to store most of your items or sell some at a backyard sale. You can have peace of mind knowing that your home has more space and that the dust mites can no longer create a warm environment for them to flourish.
Repair Tears and Rolls in Carpeting

If your carpet has been around for some time now, you may have noticed some unattractive bulges, tears, and rolls all over it. You may have considered what would be the most ideal treatment solution or whether you should replace it completely. A flooring contractor may be the best judge on whether you should replace your carpet.
If you want to add your carpeting as part of your home safety
maintenance checklist, you should know that there is a lot that goes into carpet cleaning and maintenance. This is to minimize the carpet losing its quality within a shorter period. When you notice any tears or rolls on your carpet, it means that its quality has been compromised by various factors. A simple stretching of the carpet can help. But, if it is not sufficient, you can contact your local flooring contractor to determine what needs to be done to repair it.
Have Your Roof Inspected
Summer weather comes with an increased amount of rain. However, having a damaged roof can cause you more problems. This is why having your roof Inspected is very important. A roofing contractor can determine problems that you may overlook. More importantly, they can tell you whether a roof repair or getting a new roof replacement is the ideal solution or not.
If you cannot afford to hire a professional roofer to inspect your roof, you can use the following tips to inspect your roof.
Look out for any moss, algae, and piles of leaves.
Check for signs of damaged shingles. They can appear curled or buckled.
Check for any missing shingles that need to be replaced.
Check for any damage to the attic.
If you can, inspect your roof up close.
Remedy Cracks in Pavement

If you have a mini pavement sidewalk as part of your home, you can add it as part of your home safety maintenance checklist this summer. Maintaining asphalt pavement cracks can help you save money in the long term when compared to the removal and replacement of the asphalt.
Preventative measures that can preserve your pavement include crack sealing or crack filling that can use asphalt sealcoating to remedy the cracks.
If you leave the cracks untreated, they can allow water to penetrate the base of the pavement. As a result, repairing the cracks in the pavement is an ideal way to increase your home structure's durability.
Have the Furnace Cleaned
A clean furnace is a sign of an effective running heating and cooling system. Furnace cleaning can also be part of your home safety maintenance checklist this summer. When the furnace is clean, the system will run smoothly and provide your home with quality ventilation. Moreover, if your furnace is clean it can slow down the aging process. Dust can collect on the main controls and electronic switches and affect the heat exchange from the HVAC system.
HVAC services providers can help to provide you with the ideal cleaning. This can ensure that your system runs safely. If you want to minimize the need for frequent maintenance and cleaning of your furnace, you can learn more about how to change the air filter.
Install Safety Lighting Outside

Unfortunately, summer means that there may be an increase in the number of criminal activities in the area. This is why it is essential to invest in different ways to ensure your safety. Safety lighting needs to be included in the home safety maintenance checklist. Not only does it provide the outside of your home with amplified lighting that enhances visibility, but it can deter criminals from entering your home.
There are many outdoor lighting solutions out there, what you choose depends on your needs. For instance, you can install spotlights that are motion-activated to scare away any potential trespassers. Or you can incorporate landscape lighting to offer you a robust sense of security. Whether you are adding lighting for safety and security reasons or to enhance how the exterior of your home looks this summer, it is advisable to find out what the different options are.
The Bottom Line
Your summer home safety maintenance checklist needs to ensure that it covers all the bases. While having a home that looks beautiful in summer is important, it is essential to consider the safety aspects of your home with every maintenance or cleaning that is done.
Home safety is a huge concern especially if your home has smoke detectors. Doing regular checks on how it is functioning and assessing the battery power is imperative. It can help you avoid more than a fire damage claim. This summer, you should worry less about what needs repairing and find cost-effective ways to fix the issues.