Upgrade Your Kitchen and Make it Pop: 8 Ideas to Get You Started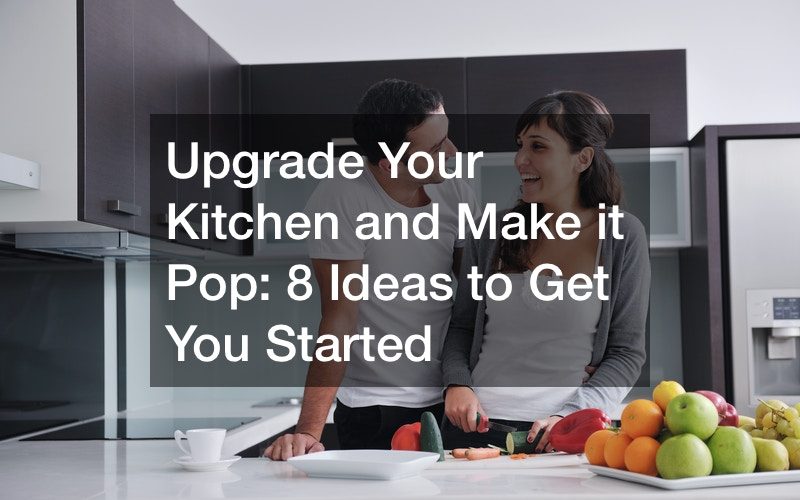 The kitchen tends to be one of the most used spaces in a house. Everyone goes there to grab a bite to eat or pull a drink from the fridge. Some household members practically live in the kitchen, cooking most of the meals or putting away tableware and utensils. For that reason, it's a practical desire to upgrade your kitchen when it starts to take on a shabbier condition.
When is the right time to upgrade your kitchen? Honestly, it depends on the layout of your kitchen and how much use it gets. Some kitchens start to take on wear after just five years of heavy usage. Others look bright and cheery for a decade. However, you'll definitely know when a remodel is in your future.
Don't think of reinvigorating your favorite space as lost money, either. When you upgrade your kitchen, you could potentially get more than an 82% boost on your investment. In other words, if you sell your home within a few years of the time you upgrade your kitchen, you might end up getting a higher bid by about 80% of what you paid to upgrade your kitchen. Therefore, if your kitchen upgrade costs $15,000, you could possibly get a $12,000 increase in the sale price you would otherwise expect.
Of course, you might not want to put your home on the market anytime soon. That's okay. It's still fine to upgrade your kitchen so you can fall back in love with your family's personal Grand Central Station hub. Below are a few tips to consider as you embark on your renovation.
Idea #1: Refinish or Replace Your Kitchen Floor
One of the hotspots that take the brunt of use in your kitchen is the floor. Consequently, if you do nothing else to upgrade your kitchen, you'll want to consider replacing or at least rehabbing your floor.
First thing's first: If for some reason your kitchen has carpeting, get it out. Fast. Carpeting in kitchens hasn't been in vogue for a few decades. Though it can look spectacular when the kitchen's brand new, the carpet will take on stains and odors rapidly.
A better solution for your kitchen floor is a hard surface, like wood, laminate, tile, stone, or even brickwork. Many fashion-forward kitchens boast unique floors. In fact, you'll probably want to go to a flooring store to check out your options. Don't be afraid to go a little bold, such as installing tile with a Southwestern motif, especially if you plan to dress up the rest of the kitchen in a more neutral palette.
What if you already have beautiful hardwood floors in your kitchen that just need some TLC? Find an expert in your region who provides wood flooring refinishing services. You'll be shocked at how some professional attention can bring out the character of real wood. Just make sure that you have your wood finisher add some kind of protectant so that moisture from spills won't damage your gorgeous kitchen floors.
Idea #2: Repaint the Kitchen to Feel Warm and Inviting
As you brainstorm ways to upgrade your kitchen, start considering whether or not a few coats of paint could make a big difference. Adding paint to the ceiling, walls, and cabinets could change the ambiance of your kitchen. Plus, you won't have to spend too much. Even high-end, high-quality glossy and matte paints from reputable manufacturers won't cost too much. So if you're going to upgrade your kitchen on a strict budget, you might want to opt for paint first.
The color paint you choose is entirely up to you and your family. With that being said, go easy on anything that's going to be too brash or bright. You might have always dreamed of owning a home with a pink kitchen. Nevertheless, your pink kitchen could start to look dated and unappealing very quickly.
In most cases, neutral and natural colors should be your mainstay palettes for your kitchen. This doesn't mean you can't have some intense contrasts or even a few accent spots. For instance, you might decide to paint the walls an optical white color and the cabinets black. At the same time, you could add a pop of color by painting a chair rail red or your kitchen stools blue. Use your imagination, but start first with basic hues.
Not sure where to start? Visit a kitchen design store to get some concepts. Home design stores are great places to venture if you're going to upgrade your kitchen, anyway. They'll often showcase concepts and themes you never considered, but that would be perfect for your residence and lifestyle.
Idea #3: Handcraft a Unique Wine Rack DIY-Style
A huge benefit of deciding to upgrade your kitchen is that you honestly can do anything you want with the space. This includes kitchen remodeling that keeps your family's personality and needs in mind.
As an example, you might have a household of family members who love to use their devices all the time. Consequently, you could upgrade your kitchen by adding all sorts of outlets and charging stations. You might even place a large screen TV on one of the walls if your kitchen is big enough and everyone enjoys watching the tube while they're having breakfast or a snack.
Other ways to make your kitchen a one-of-a-kind place is to construct build-ins like wine racks, pantries, unusual islands, and special shelving. Use your imagination as you think about what you'd want most from your kitchen. Is it a big, comfy conversation space so dinner guests can hang with you while you make a meal? Or could it be a corner desk for your kids to finish up some of their online learning projects without having to go to their bedrooms?
This is really one of the fun aspects of trying to upgrade your kitchen so that it's never going to be something that looks run-of-the-mill. To jog your brain, look through Pinterest and other online sites for unusual kitchen designs. You might not love everything you'll see, but the images will give you new perspectives on what's possible.
Idea #4: Add a New Theme
Maybe all your kitchen is lacking is some kind of an overarching theme. For instance, it could be a fairly bland space that just doesn't have boldness or pizzazz. A quick way to switch it up when you upgrade your kitchen is to think of your kitchen from a thematic approach.
Let's say you love the beach. You want to feel like you're entering a beach house every time you turn on the light in your kitchen. Therefore, start decorating the space. You could hang wall art with beachy pictures. You could swap out the hardware on drawers and cabinets for pulls and knobs that echo a beach feel. Your window dressings could include pictures of fishing boats and seashells. Even your oven mitt could be in the shape of a lobster or clamshell!
It's really not too difficult to come up with a theme as you upgrade your kitchen. Just make sure that if you have another adult living with you, the adult can live with the theme, too. You don't want to make an executive decision only to discover your partner, spouse, roommate, or relative hates the end result. Ideally, everyone who lives in your household should be able to appreciate your new-to-you kitchen.
Idea #5: Create a Designated Recycling Area
Many people want to do their part when it comes to protecting the environment. When you upgrade your kitchen, you have the opportunity to add some earth-friendly elements.
The first would be a designated area for all recycling. This could be a corner pantry or area under the sink. You just need enough room to have containers that will handle all the recyclables you use, such as plastics, glass bottles, metal cans, and paper.
The second recycling area you might want to consider is a composting bin where you can place organic materials such as vegetable peels and coffee grounds. Over time, the items you place in the bin will become a mixture of solid and liquid compost. You can use the compost for your gardening, or potentially give it or sell it to people looking for compost.
Another way to compost is to have a small composting jar next to your sink. Every day or so, empty the jar's contents into a larger composting barrel in your yard. Be sure to follow composting guidelines and turn the organic material regularly for aeration. You'll never have to pay extra for compost again.
As a final suggestion for environment additions as you upgrade your kitchen, think about the lights you're using. You might want to install motion detection lights so you can be sure that you're never wasting electricity.
Idea #6: Hang Motivational Quotes to Encourage Healthy Eating
Who wants to eat healthier? You do. But let's face facts: Always having greens and produce on your plate, or a plum for dessert, can be tough. Food is delicious, and sweets are extremely tempting.
To help everyone in your family stay on track with diet and exercise, consider adding motivational quotes around your kitchen. Start with magnets on your fridge reminding you that seafood is good for your brain and milk is terrific for your bones. If you're particularly gifted, you might even want to stencil food-related sayings like "An apple a day…" on the wall space above your kitchen cabinets.
The last thing you want is for these motivators to stand out in a weird way, though. Try not to overdo it. Put them in just a few places, but where they'll serve as reminders. They might just help you change the way you think about eating.
Idea #7: Consider Adding a Breakfast Nook
A breakfast nook is one of the coziest additions you can make to upgrade your kitchen. Breakfast nooks can take on many shapes and sizes, too. For example, if you have a bumped out bow window, you could turn the window sill into seating for a comfy, sunny breakfast nook. Alternatively, your breakfast nook could be constructed in a fashion similar to a picnic table.
Once you have a breakfast nook, you'll wonder how you lived without it. Many people like to read the paper (print or online) for new car deals and the latest global marketplace information while seated at their breakfast nook. Others treat their breakfast nook as a lovely getaway place at night (for a late breakfast, perhaps) where they can study for their investment banking license exam or read another chapter in their favorite author's latest book.
Though a breakfast nook isn't a make it or break it deal when it comes to how you upgrade your kitchen, it can absolutely provide you with a spot for pure relaxation and enjoyment. Additionally, it could become the spot where kids go to tell you about their day while you whip up an afternoon snack or get ready for dinner.
Idea #8: Liven Up Your Backyard With an Outdoor Kitchen
True, most homeowners think interior design when considering any kind of a kitchen upgrade. However, if you have an outdoor space, you could potentially install an outdoor kitchen.
Before you assume that only very wealthy people can have outdoor kitchens, you should be reminded that an outdoor kitchen can be pretty bare bones. Many people create outdoor kitchens on weather-protected stone patios. They add a grill, sink, and prep table and call the space a kitchen.
Your outdoor kitchen can be rustic or very elaborate. But don't think that it can't be done. If you love to spend a lot of time in your backyard or around the pool, an outdoor kitchen could be exactly what you need. You won't have to run in and out of the house to make meals or entertain people. That's a huge relief, especially if you host a lot of gatherings.
Sometimes, the question isn't whether to upgrade your kitchen. It's how. Ultimately, the answer is up to you. Do some homework, look at some concepts and images, and think about what you need for a dreamy kitchen that will get rave reviews.