Become More Glamorous: How to Lead a More Comfortable Lifestyle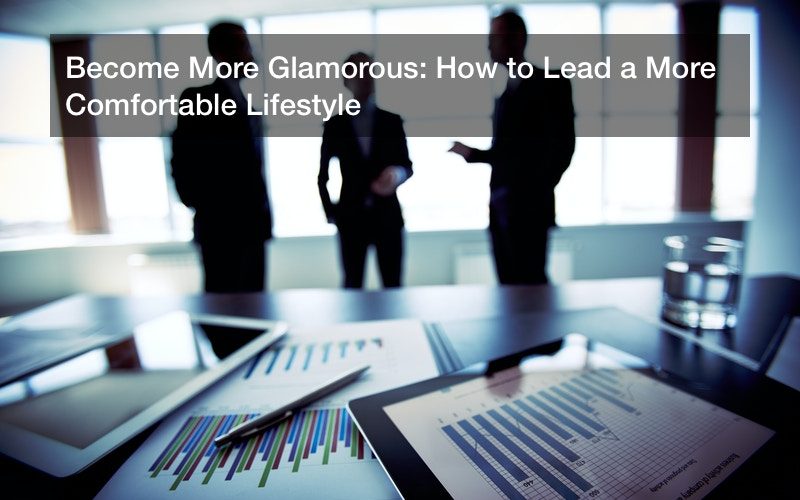 Do you want to live a more comfortable and glamorous life? From home to health, here's how you can achieve these goals.
Your Body
Skin
There are several key ingredients to beautiful skin: Minimize exposure to sunlight, drink more water, and embrace healthy living. These ingredients are also a great way to become more glamorous.
Less sun
By minimizing your exposure to the sun, you're reducing many problems with your skin, eyes, and hair. You probably already know that too much sun causes damage to skin. Your childhood sunburns were a painful lesson. Over time, prolonged exposure can cause wrinkling, destruction of collagen—the elastic fibers that keep your skin firm and flexible, and a change in the cell structure of the skin that can lead to skin cancer. In the eyes, too much sunlight alters the protein in the lens of the eye, making it cloudy and your vision becomes blurry. A decent pair of Ray-Ban sunglasses can help slow the arrival of cataracts.
More H2O
Water is an important ingredient for healthy skin. Other than drinking water, avoid non-hydrating behaviors like smoking, excessive alcohol, and salt consumption. Reduce your caffeine intake. As delicious as those flavored iced coffees are, they can cause skin (and your whole body) to dehydrate. Nicotine, alcohol, and caffeine are considered diuretics. This means they are substances that encourage your body to eliminate water.
Healthy living
A decent amount of sleep to the tune of seven hours a day can reduce your risk of heart disease and diabetes. Exercising for 30 minutes twice a day also reduces heart disease and diabetes risk, not to mention it keeps your weight stable. To keep your skin clean, wash twice a day with warm water and a bar of mild soap.
Even more glamorous skin tips
Maintaining fresh and youthful skin requires a positive commitment to your overall health. This kind of serious self-care benefits from the experience of dermatology professionals. There are many tools they can employ for healthy skin such as skin rejuvenation treatment. This treatment involves instruments like a laser that can address veins, wrinkles, lines, and other skin discolorations. As beautiful as you are now, there may be some "body" issues you'd like to address.
Issues like crows' feet, laugh lines, bags under your eyes, thin lips are all common. One of the best things to do to quickly address wrinkles is the FDA-approved treatment Botox.
Most botox injections are temporary and not that painful. However, a study in the Journal of Cosmetic Dermatology reported that when people had botox to prevented frowning, they had reduced negative mood.
Posture
Experts suggest that to become more glamorous or to feel fabulous, it needs to come from the inside out. Often a feeling of just being "off" is related to how we move to sit or stand. Most Americans have poor posture as we spend too much time sitting. With chiropractic treatment you can feel better as the correct positioning of your spine is achieved with adjustments Once your bones and joints come into alignment, you'll feel better. The range of motion and movement will become more comfortable and fluid.
Massage therapy
Massaging the soft tissues of your joints and muscles can decrease the inflammation that leads to pain and movement issues. Spas have trained professionals that can ease away the tensions and knotted muscles of your upper body. Look for a full-service spa, often located at resorts. They do more than hair and nails. Services should include: facials, haircuts, styles and color, manicures, pedicures, Swedish massage, deep tissue massage, full-body wraps (seaweed or chocolate), steam rooms, and relaxation pools. Also, take a peek at their menus. You should see healthy fresh foods, new takes on pizzas, and wraps.
Make your smile more glamorous
Crooked teeth can give folks the wrong impression. A study by Kelton Research demonstrated that when subjects were asked to look at pictures of people with crooked teeth, most had a negative impression. With clear aligners (clear retainer-like prosthetics) for adults that can adjust your teeth. It's worth the 12 months or so of putting them on. And it's not just the direction of your teeth but the color that can also be off-putting. Taking advantage of cosmetic dentistry for teeth whitening is a smart way appreciate all the newest gadgets that technology has to offer.
At your dental office, your dentist can use a laser tooth whitening system that's fast, safe, and effective. If you want to brighten your smile, an affordable alternative is whitening strips. They cost about $25-$65 depending on the number of strips or trays in the pack. Many strips, gels, and rinses all use the same whitener—hydrogen peroxide.
Hire a personal stylist
A stylist is a person who "gets you." A professional who, after questioning you and going through your closet, can create a wardrobe with the labels of designers you are most comfortable with. A major problem with fashion trends is that you have to constantly keep an eye on all the fashion trends and news. This is where your own personal stylist comes in. They can help you develop your own style that accentuates your beauty and self-confidence. A stylist will be able to sift through the "mimic-my-fav-celebrity" trends. They can also accompany you on your clothes shopping trips so that you make the best purchases that suit your style.
Your Home
Your home should be a reflection of your style and how you want to live. To be more glamorous, you won't need a new house. There are a few subtle ways to make your home an amazing space. Having a glamorous home involves making it a welcoming retreat, an oasis from the chaos, and ready for entertaining. It should be comfortable and up-to-date. If you've rejuvenated your health, it's time to renovate your home. It's been demonstrated that making your home safe—ridding it of pests, fixing leaks, replacing hazardous material (asbestos), improving safety features—you can also improve your health and well-being.
Kitchens are for entertaining
Your kitchen is the one room in your house that will see the most use. Dropping a lot of money into a room renovation may sound daunting, but it's worth it. Even minor kitchen remodels have a return on your investment of almost 83%. For every dollar you put into your renovation, you'll get back almost as much. Kitchen renovations should include updated backsplashes, marble or granite counters, new appliances, and complementary flooring. Something as simple as updating the stools around your kitchen island is enough to change the whole look of the kitchen. Painting the cabinetry in a lighter color is also a simple way to improve the appeal of your kitchen and give it a fresh look.
Bedroom is for sleeping
To make your bedroom more glamorous, interior designers suggest cool grays and pale blues. These soothing colors help you relax and enhance sleep. One important way you can get sleep is to remove all your electronics. Looking at a computer or phone screen for a long time can make you stay awake. Consider a white noise machine for soothing sounds to ease you into slumber. Soft rainfall, rhythmic ocean waves or white noise are sound that can relax you.
Spice up your bathroom
This is the room in which you begin and end each day. It should be sleek, simple, and easy to clean. Make sure the paint and the tile sealers are mold or mildew resistant. Any paint that absorbs moisture is going to be the paint that encourages mold growth. Mold is nearly impossible to remove once it's turned the surfaces black. The only way you can remove is with bleach. Cleaning with bleach is disastrous. The fumes are toxic and too much can destroy the grout and tile. And while you're thinking of cleaning, perhaps it's time to employ a cleaning service to maintain the appearance of your home.
Don't succumb to the elements
Sorry, getting caught in the rain is not glamorous or romantic—no matter what the song says. Rain, sleet snow can ruin hair, makeup, and delicate fabrics. Get into the house through a breezeway or garage. And if don't have an automatic garage door opener, see if you can install one. Plenty of window and door companies can install or perform garage door repairs if yours is broken. Slipping into your home via the garage is also an important safety feature.
Don't fall, glide
Safety first, might not seem all that more glamorous, but why not invest in a home elevator? About 80% of stairway falls occur in the home and falls result in over 35,000 deaths annually. Recent elevator modernization allows for elevators to be easily installed in homes. The elevators are essentially transparent tubes that gently move you between the floors of your home. The tubes can be discreetly tucked into the corner or your hallway or bedroom. Newer elevators are economical as well. The motor which operates the elevator doesn't consume that much electrical power.
Your Car
Great rides
According to Car and Driver some of the most glamorous cars include: Alfa Romeo Guilia, Bugatti Chiron, BMW 8-series Gran Coup, Aston Martin DBS Superleggera, Ford GT, Lexus LC, Mercedes Benz S-class Coupe, and Porsche Taycan. These cars are low to the ground, sleek and their lines are clean and smooth. You can be sure these vehicles are much more glamorous than an SUV or a minivan.
Comfort inside
While you may not be in the market for a new car, you do not want to arrive—anywhere—all sweaty and gooey (always go for fresh and dewy). Make sure in the heat of summer, your car's air conditioner is working well. If not, get it into the dealer for an auto AC service. In the winter, your car should have heated east and never point the heat toward your face— it'll dry out your skin.
Protecting you and your car
Speaking of your skin, as you're driving around town, you'll want to minimize your exposure to the sun—summer or winter. You can do that by customizing your car to include window tinting to prevent UV rays from reaching your skin. Tinted windows can also spare the interior of your car. Leather breaks down, changes color, and can weaken and tear. Automotive window film—which dates back to 1966–can also reduce the temperature of the interior. This means that the materials on the interior can last longer because they aren't exposed to intense heat.
Protecting your co-pilot
Doggie car seats, like a bucket booster or console seats (for pint-sized pups), keep your furry companion in place and safe from any sudden motion. Console doggie seats fit snugly between driver and passenger seat without interfering with the operation of the car. Some pet car seats have tethers that connect to harness or collars to prevent your pet from jumping out of the backseat. They range in size and some are so comfortable and large, your pet can lie down and sleep or simply enjoy the ride.
Protect the whole car
When you buy a new car, it's automatically covered for about 100,000 miles from bumper to bumper as it refers to the powertrain or drivetrain. The powertrain is the engine, transmission, and the wheel system, also known as the important parts of the car.
This means that if anything goes wrong and the odometer is not more than 99,999 miles, you can take it back to the dealer and have it repaired for free. You can opt to buy additional coverage, called an extended warranty, in order to cover more parts of the car or for more mileage.
These warranties are not meant to be vehicle insurance which is a separate product that covers the car for damage and repairs due to accidents. Vehicle insurance is required by many states.
Related Keywords:
a decent salary, a living wage in the us, income to cost of living ratio by state, what is a good salary in ohio, a good income, a good salary in us, american annual salary, asfa retirement standard calculator, average monthly spending in retirement, average person's income, average salary for single person, comfortable retirement income for couple 2016, comfortable retirement living, comtarble, cost to live comfortably, cost to live in each state, good income for family of 5, good income for single person, good wage, good yearly income, how much average salary in us.