4 Home Improvements You Should Make Before Putting Your House On The Market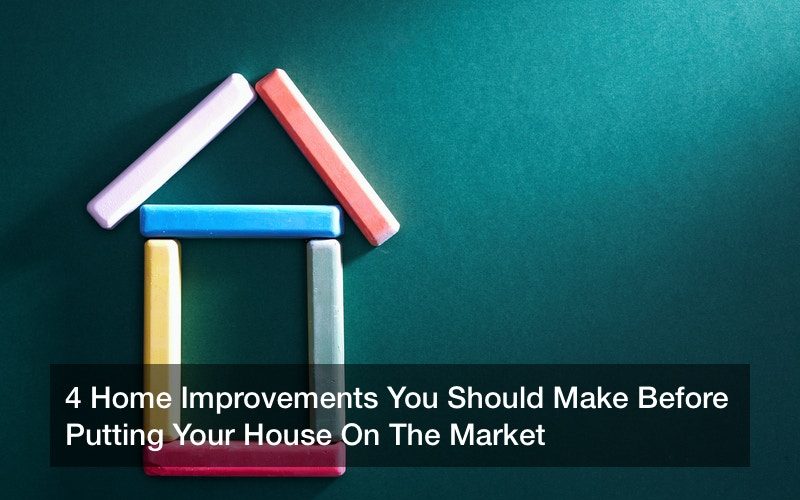 Selling a house is particularly difficult during our current economic climate. This doesn't mean that people aren't shopping for houses and moving. No matter what, there will always be Americans that need new homes, and many of them are currently seeking out housing. The housing market tends to fluctuate between favoring the buyer and favoring the seller. Right now, the issues facing sellers are really those of competition. A lot of people will be putting their houses on the market as they prepare to downsize; others are attempting to sell homes for other reasons, or trying to move a house that has been on the market since before the pandemic began. For this reason alone, it may be harder to sell your house fast than it would have been just a few months ago. What may have seemed like a sure sale may no longer be quite as easy as you anticipated. With that being said, there are still opportunities available for homeowners looking to sell their houses. They might just have to make a greater effort.
Some of the most tried and true strategies for selling a home can still work, but it might be difficult to accept that the best way to sell a house is to invest more into it. If you're looking to make a profit off your sale, as most homeowners do, the idea of spending money in order to make money can still be strange at first. However, historically speaking home improvements to increase resale value have been among the most successful additions one can make when attempting to sell a house. There are a lot of benefits to investing in home renovations prior to putting your house on the market. For one thing, a more updated house is always going to be more appealing than a house that is suffering from wear and tear. They're easier for buyers to move into, and a lot of them find that spending money on a recently updated home is worth it in the long term. Not all home improvements necessarily have to include expensive updates, however. You should also focus on simply ensuring that your home is in the best possible shape, with all necessary repairs done before it's put up for sale. Another benefit of handling these types of improvements is that they add, as previously mentioned, value to your home. Therefore rather than losing money, you'll actually be gaining more of a profit than you could have expected otherwise. Let's look into some of the best home improvements to increase resale value, based on a number of different scenarios.
1. Improved Landscaping
There are a number of different benefits to making home improvements before putting your home up for sale. However, a lot of those improvements may extend beyond just the home's interior. The fact is that a lot of different houses may look great on the inside, but it's their exterior that will first catch a buyer's eye. This is why of all the possible home improvements to increase resale value, landscaping updates are among the most popular. There are a lot of ways in which a home's landscape can be changed. For example, a house with a dry or sparse lawn is never appealing to potential buyers driving by or looking it up online. Fortunately, a lawn can be revitalized fairly easily. While some homeowners choose to install artificial grass, which is sure to look fresh and bright all year 'round, others prefer a more natural approach. With good fertilizer and a well-placed garden sprinkler system, your lawn will look as good as new in no time. Another possible option for those that would like to improve the natural vegetation in their landscape is that of adding flowers, bushes, and other types of shrubbery. Buyers really appreciate having a garden to visit, and plants can add genuine value to a property. You could even consider adding tress to your property, or perhaps some fruit or vegetable plants.
Moving beyond plants, there are plenty of other landscape-related home improvements to increase resale value. For one thing, you may want to consider adding a pond to your property, where the homeowner in question can relax and enjoy themselves. Water features are hugely popular among buyers, and they can really set a home apart. A pond could be expanded by adding a small waterfall. You could even connect the plants that you add to the water feature through an irrigation system, which would actually add extra value to the feature itself. Another landscape improvement you should consider is a patio. A patio actually expands your outdoor living space and gives people an extra place in which they can enjoy themselves. It's a perfect entertaining space, and it will really help potential buyers envision themselves in your home. Another thing you can do to improve your landscape would involve adding fencing to the property. The more you can do to make people feel as if they're getting everything that they possibly can from your property, the more attractive it will be to them in the long term.
2. A Kitchen Remodel
The kitchen is one of the most popular and important rooms in the home. It obviously serves a practical purpose, as it's where you're going to prepare your food. However, it also serves a practical purpose, with a lot of people spending time with their friends and family as they cook. This can extend into the meal, with lots of people eating within the kitchen rather than eating in a separate dining room. Kitchen remodeling jobs are remarkably valued on buyers, and even a small kitchen remodeling job offers an average return on investment of 82.7%. When you tour a house for sale, one of the first things that you'll notice is the kitchen itself. You'll want to know that it has all of the features you want and that it's up to date and ready to go. This is why kitchen remodels are so important, and certainly, one of the most home improvements to increase resale value possible.
So, what can you add to a kitchen? Consider the practical improvements first. Think about adding a water filtration system to your kitchen sink or refrigerator. A water filtration system has a lot of benefits, as it will not only make the water in question safer to drink; it will also make it taste better as well. Adding to a kitchen will allow people to simply drink tap water rather than buying bottled water consistently. Of course, you'll also want to consider replacing your oven if it's older, as ovens tend to take a beating over an extended period of time. An older oven won't work as well a new one, and a lot of newer ovens are also more energy-efficient and easier to use. Practical aspects aside, you can also improve your kitchen by changing the decor, and perhaps opening up its aesthetic. People enjoy having a kitchen that is warm, clean, and inviting. When making home improvements to increase resale value, it's important to remember that you shouldn't put too many of your own tastes into the renovations. After all, the point is that you're going to be selling your home. Fortunately, creating a neat and appealing aesthetic for your kitchen shouldn't be difficult if you're working with the guidance of a home improvement expert. Just keep the future seller in mind, and put an emphasis on opening up the space and adding natural light.
3. Make All Those Repairs
Think about what you consider when buying a home. The last thing you'll want is to have to replace an air conditioning unit soon after you move into your new house. For that matter, if you end up discovering a lot of issues when the home is inspected prior to sale, the sale might not go through; or you would potentially ask the seller to cover all repairs before it's finalized. Therefore, if you're the seller in question, you'll want to go ahead and make sure that all necessary repairs are made before the home is put on the market. If you don't, buyers may feel as if you were trying to trick them. Honesty is always the best policy, and as the current owner, you'll be more familiar with what needs to be done in terms of repairs than a buyer would be.
Perhaps one of the first repairs that you'll want to consider would involve air conditioning repair, or perhaps a gas furnace repair. The status of your home's heating and cooling system will be hugely important to potential buyers. It can affect the comfort level of a home. For that matter, a faulty heating and cooling system can potentially cut down on your house's energy efficiency, and would, therefore, result in you spending more than you should on your heating and cooling bills. Another issue that you should consider is perhaps looking to the structural integrity of the home. This will of course be inspected prior to a sale, as previously discussed. However, you should go ahead and have any problems taken care of ahead of time. Residential foundation repairs don't have to be as expensive as you might imagine they would be, and you can have them done efficiently. At the same time, you should also look above, at your home's roof. As important as your home's foundation is to its structure, any roof damage can also potentially lead to serious consequences in the long term. Therefore, you should go ahead and get in touch with a roofing company in order to ensure that all necessary roofing repairs are done before buyers look at your house. While repairs may not be the most fun types of home improvements to increase resale value, they're quite important.
4. Bathroom Remodels
If the most popular of the possible home improvements to increase resale value is the kitchen remodel, a bathroom remodel is the next most popular. For that matter, due to the fact that bathrooms are smaller than kitchens and tend to be less expensive to update. Certainly, there are practical parts of bathroom renovations that you'll want to tend to quickly. If there are any plumbing repairs that need to be done to the home, you should take care of them as quickly as possible.
Just as with a kitchen, however, many of the best improvements to a bathroom are more based on aesthetics and benefits than they are on practicalities. Think about home much an updated tub might draw a buyer in, or perhaps a frosted glass shower. You'll also want to think about perhaps adding some spa details to your bathroom. People will appreciate the idea of relaxing in their tub or shower, being able to really enjoy a relaxing space rather than simply treating it as a utilitarian room. You should also consider creating more storage space in the bathroom, as the new homeowners will be better able to keep nice towels, as well as bath bombs and salts.
Home improvements to increase resale value are always great investments. The last thing that you want as a seller is to potentially miss out on a great opportunity because another house was just a little bit more attractive than your own. For that matter, you should consider not only what it will take to sell your house, but what it will take to make the best possible profit on the house. Turning a great profit will require offering more than just the bare minimum. Your home needs to be at its absolute best before you put it on the market.
Some houses definitely need more home improvements to increase resale value than others. You don't need to turn the house you're selling into your dream home. However, you do need to consider the advice of experts, whether they're contractors or renovation specialists. By being strategic, you'll get the most possible value when you sell your home, and move on to your next house with a tidy profit.
More:
10 steps to prepare your home for sale checklist, 10 steps to selling your home, 2019 real estate articles, 3 main methods of listing property for sale, a guide to selling your home, a house sold name, a person who sales houses, a quick sale, accompanied viewer definition, advertise your house for sale free, advice on buying and selling a house, any houses, are houses selling for asking price, are houses selling in my area, are you selling your home, before selling house, before selling your house, below market value homes for sale, best agent to sell my house, best day to list house for sale, best home selling tips.