How to Transform Your Living Room on a Budget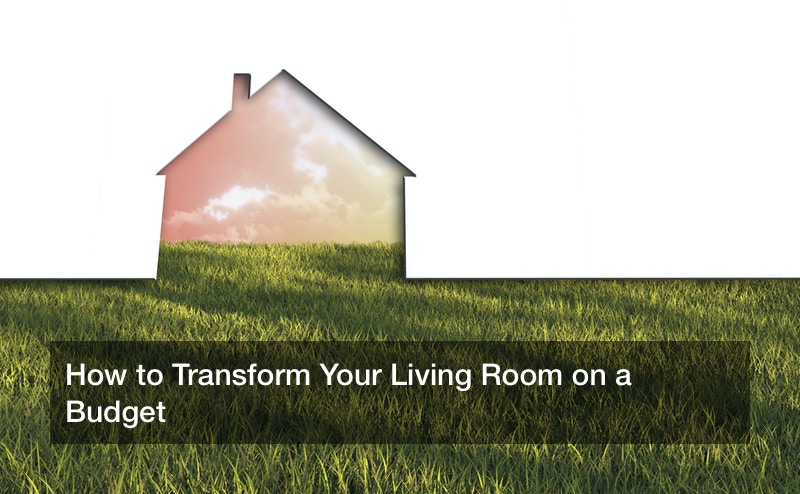 andnbsp;
Updated 9/24/20
The living room is the center of your home. All of the hustle and bustle that travels through your house passes through the living room. Your kids make memories there, you unwind at the end of the day there, and everything in it represents your family. To keep that representation accurate, you need to change your living room every once in a while.
To the dismay of homeowners everywhere, transforming an entire space is not always an affordable endeavor. Big projects cost big money. Luckily, there are plenty of projects that won't break the bank but will make your living room feel like a completely different space. Read on to discover a few affordable ways to change your living room so that it always feels like it belongs to you.
Purchase New Throw Pillows
Throw pillows may not be the largest feature of your living room, but they do influence its look and feel. This makes them one of the easiest ways to update the look of your living room. Throw pillows come in all types of colors and patterns, allowing for very interesting combinations with your furniture. If you recently bought a new couch with furniture financing but aren't quite happy with how it looks in your living room, don't waste your money on another sofa. Instead, try improving its look by changing out the throw pillows on it.
A great tip for aesthetically-pleasing pairing is to mix-and-match patterned and textured pillows with single-color pillows in contrasting hues on a solid color couch. This tip works equally well for large armchairs and loveseats. Purchasing pillows in a range of sizes can help you create a comfy arrangement on large sofas or sectionals. While you're pillow shopping, you can also look into large pillows for kids' floor seating, the colors and patterns of which should also mesh pleasantly with the rest of your living room.
Change Up Your Lampshades
Lampshades are more than just a functional part of your living room. While your residential electrical services power the lights in your home, the lampshades dim the bulbs so you're not blinded and can create interesting visual effects. When the lights are off, lampshades can be an opportunity to add aesthetic details to your home.
When your living room is starting to feel shabby, try swapping out your old lampshades for new ones. Don't be afraid to go for lampshades with unique colors, shapes, patterns, and textures. Any interesting details on a lampshade are the perfect way to create an accent in your living room. Just remember to keep an eye on the price of the lampshade to ensure it is in your budget.
If you're looking for a completely free way to change your living room, simply swap around the lampshades in your house. Just switching the lampshades in your living room with the ones in your bedroom can make both spaces feel completely different. Plain lampshades can also be easily spruced up with DIY decorations.
Bring the Outdoors in with House Plants
Houseplants are a wonderfully affordable way to freshen up your living space. They come in a practically endless variety of sizes, shapes, and colors that can perfectly complement your living room. You can pick out some more traditional green houseplants or fill your space with colorful varieties to really bring your outdoor landscaping inside. When you're picking out plants for your living room, just be sure that they will do well with the amount of natural light the room gets.
If you want to fill up a lot of space with plants, you may be tempted to buy a large house plant and call it a day. However, the larger the plant is the more you'll have to pay. Instead, create the illusion of your room being filled to the brim with greenery by setting clusters of small plants at different heights around the room. When you have more plants, it also means you can boost the design of your living room further with fun colors and designs on the pots. Don't be afraid to get creative with your plants' arrangements by adding miniature fencing and other decorative details around the clusters. These small details are what can make your indoor living space feel like an outdoor oasis.
Create a Statement Wall
You may think that the best way to change your living room is to give it a new coat of paint, but painting an entire living room can be costly. On average, it will cost between $200 and $300 if you do it yourself and up to $790 if you hire painters to do it. Rather than using the money you could put towards a mortgage payment just for a newly painted living room, you can create a statement wall. This means painting and decorating just one wall in the living room to stand out from the rest.
There is a wide variety of ways to create a DIY statement wall. One of the simplest ideas is to paint one wall a different color that contrasts or compliments the other walls in your living room. If you want to get a bit more creative with your paint job, you can paint a bold pattern onto the statement wall, such as chevron, geometric shapes, or stripes. Alternatively, you could put wallpaper or a textured wall covering on the wall to showcase an intricate pattern or design without doing all of the legwork. No matter what direction you decide to go in with your statement wall, you can take the opportunity to show off your personal tastes and style.
Rearrange the Furniture
Another easy way to change your living room is to move around the furniture in it. When you've had your living room set up a certain way, it can start to feel stale and confining. You may not realize it, but this stale set-up can affect the health and wellbeing of your family. According to the traditional Chinese practice of feng shui, you can use the energy forces in your home to create harmony between yourself and your environment. While the actual practice is rather involved, you can apply the basic concept of arranging your living room to create a positive energy flow, which can then have positive effects on your mental and physical health.
Take a hard look at your living room and think of ways you can rearrange it. Try to think out of the box. Rather than the traditional layout of a coffee table in the middle, sofas against one wall and a TV on another, try pulling your furniture away from the walls. This can create an interesting set-up that generates more flow in the room. You can also use a piece of artwork as the focal point for the living room, rather than the TV. For families that are starting to feel stifled by screens, putting the TV in a more discreet location can help the living room feel like a fresh and enriching place. Consider whether you really need all of the furniture in your living room as well. If not, clear some out to make the space feel larger and less cluttered.
Declutter with Stylish Storage Options
If you can't bear to part with any of your furniture in the name of decluttering, focus on the smaller objects in your living room that take up space. Items such as magazines, extra throw blankets, kids' and pets' toys, game controllers, and remotes may seem like they don't take up much space. However, when you consider all of the space these items occupy cumulatively, they create a cluttered effect.
To change your living room, find some stylish storage containers to organize these items a bit better. Baskets and canvas cubes tend to be the most affordable and they're lightweight, allowing you to easily carry them wherever you need to. They also come in a wide range of colors, styles, sizes, and shapes so that you can get containers that fit perfectly into the aesthetic of your living room.
For optimal organization, designate each container with a purpose. For instance, one basket would be for education and would hold all of your kids' books and school materials. This will make it easier for your kids to find the items they need for homework and studying and prevent the various objects from being strewn across your coffee table. If your family loves video games, have a box dedicated to games and controllers. If you tend to fall on the craftier side, you could have a cube for all of your craft and art supplies. With a clear organization system, your living room can feel like a brand new space.
Try Alternative Lighting Options
If the lampshade trick isn't doing enough to change your living room like you want, try using different types of lamps and forms of lighting. A good way to keep your living room from feeling like an overlit salon is to use floor and table lamps at different heights. With varying levels of lighting, you can create a dynamic scheme that doesn't feel harsh or overbearing. Instead, you'll have ambient lighting that makes your living room feel warm and inviting.
Revamp the Flooring
The flooring of a living room is often the culprit for making it feel drab and outdated. Changing your living room's flooring also tends to be rather expensive. Rather than paying to have it completely re-carpeted or have hardwoods installed, try some DIY tricks to change up the flooring.
If you have hardwoods and are growing bored of the individual area rugs you have, try layering the rugs to create a dynamic look to your living room. This layered look is very on-trend at the moment. Don't be afraid to mix up colors, textures, and patterns as you layer rugs in your living room. To keep it from becoming too hectic on the eye, use natural rugs as a base and stick to a simpler color palette. When you strike the right mix of rugs, you can create a visually interesting space.
Another creative option for your floor is to paint the floorboards. This will take a bit of elbow grease, but you can get it done in a weekend and it won't cost you too much. Better yet, it can completely change your living room's look and feel. Black floorboards are particularly on trend right now, but you could also go with a lighter, more natural shade if black is a bit too bold for you. When done right, painted floorboards can give the space a rustic feeling that makes everyone feel at home.
Of course, you need to consider how a major change to your floor like this may affect you when you try to sell your home. A potential buyer may not love the black floorboards as much as you do and ask that you change them before they sign the dotted line to buy the house. This kind of deal can fall under real estate law, meaning that you're legally obligated to make the change. If you don't want to get a lawyer involved, you'll then have to take the time to make the changes. With all of this said, it's important to consider how future owners of your home will feel about your changes to the flooring.
Projects to change your living room don't have to be expensive and complicated. They can be as easy as getting new throw pillows and lampshades. When you're deciding how you want to change your living room, consider what elements of it feel stale or outdated to you. Then, apply the relevant tips here to freshen up those features. With just a little bit of thought and work, you can make your living room feel like a totally new space.
Create a Cozy Environment
The essence of the home is often found in a nice living room, so it makes sense that when redecorating, you'll want to be equipped with the best home and living ideas. In a living room, it's important that the space is comfortable. Nice looking living rooms are the ones that are spacious and inviting. The living room is where friends and family get together to relax, converse, and spend time together. For that reason, the living room furniture and decor should be warm and comforting. You can do that by making sure you have lots of blankets and pillows and by investing in the right furniture. 
Some of the best ideas for living rooms include simple, elegant designs. Don't go overboard with decorations in your new living room. The latest living room designs are very minimalistic. In this case, less really is more. Solid colors versus intricate patterns can make a difference. Statement features like the couch and chairs can be more styled. It all depends on the vibe you want to create in the room. Some like a more cottage-core feel, while others prefer minimalistic styles. A perfect blend of the two will result in the best living room design ideas.
Keywords:
10 ways to make your home look more expensive, 2018 family room ideas, 2018 room ideas, 50 budget decorating ideas, affordable interior design ideas, affordable modern living room ideas, bedroom remodeling ideas on a budget, best budget home decor, budget home design, budget home interior design, budget interior design ideas, cheap bedroom remodel, cheap contemporary living room furniture, cheap home design ideas, cheap interior, cheap living room furniture ideas, cheap room furniture ideas, cheap things to decorate your room, cheap ways to decorate living room, cottage decorating on a budget, custom living room design.