HVAC Companies and The Unlimited Ways They Can Keep Your System Running Like New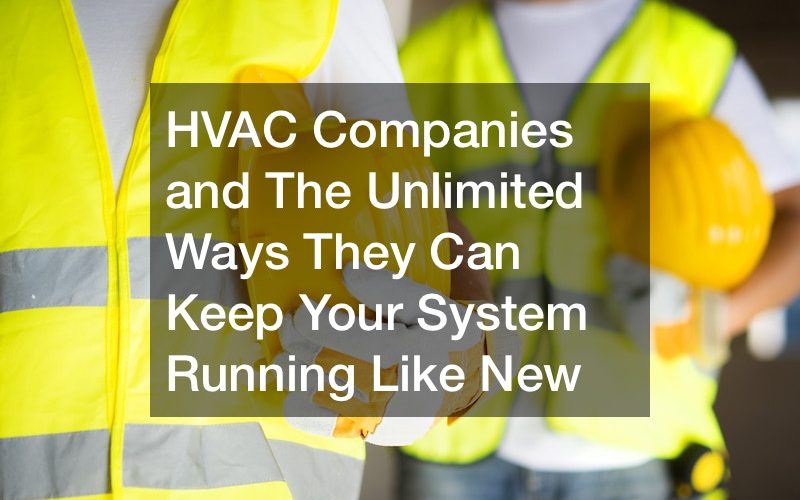 If your HVAC system isn't working properly, there are a few things that might be the problem. To find out which one it is, you can call an HVAC company to come and examine your system and find out what's wrong with it. In some cases, it just needs to have a specific capacitor replaced. In other cases, the problem may be more serious and necessitate a more complicated fix that may be more expensive.
When a company advertises that they fix air conditioning, find out what kind of terms they offer and whether they are rated highly by past customers. They should know everything about HVAC and be able to assess the problem with the system quickly. They may offer a free AC service call in order to diagnose the problem. Check out the company's website to find out more about them and the services they offer.
Getting AC calls when your system isn't working is the best way to get it fixed. HVAC units can be highly dangerous to work on when you don't have the training to do so. It's always safer to have someone who has been trained and certified to work on the HVAC unit safely.
With heating and cooling needed almost every day of the year, then HVAC companies are essential all the time. With central heating and cooling systems in almost every home, HVAC companies provide service, maintenance, and repairs all the time.
HVAC Services Offered
So, is it summer and your air conditioning is on the fritz? Or maybe the coldest day of the year and your heater just doesn't want to work? Then, HVAC contractors are essential to get the job done. In order to prevent these situations, though, it is important to order regular maintenance every season before the strongest weather comes along. It can help keep things running smoothly for the longest time. Preventative maintenance and service to your heating and air conditioning system can save energy and cost while increasing the life of your system.
The Benefits of HVAC Maintenance
Regular service and maintenance are both needed for heating and air conditioning systems in your home. These will both help to improve the working efficiency of your system as well as increase the lifespan of your unit. When determining the service and maintenance of your HVAC system and how it improves its life and performance, you should also determine a regular HVAC company to help with these services. Take a look at some of these numbers:
HVAC systems with regular maintenance are shown to last 40% longer.
Changing HVAC filters every 2-3 months greatly improves system efficiency.
Five percent of electricity produced nationally is from air conditioners, about $11 billion annually.
Additional Reasons for HVAC Maintenance
No matter whether you need heating repairs or air conditioning repairs, there may be other reasons to prevent troubles before they happen. With seasonal service or maintenance of your HVAC system, you have the ability to prevent damage later. In some areas of the country, heating is more important and in other locations, air conditioning is needed more often. Depending on the region of the country where you are located, certain HVAC repairs may happen more often, so certain preventative maintenance may be more important in different places.
Considering the fact that heating usually takes up over 40% of a home's annual utility bills, efficiency and savings are two issues with positive potential. Some tips on increasing the efficiency of your existing furnace include:
Installing a programmable thermostat can save up to 10% on heating and cooling.
Two maintenance sessions per year can determine HVAC efficiency.
It is important to have proper installation, at the risk of 30% of energy lost without it.
HVAC system replacement in the event of an emergency can be thousands, making the value of HVAC companies and their season service quite beneficial. While all of these things are important, like saving money and reducing emissions, you can prevent that incredible expense of replacing a unit during the worst of times. So, contact your HVAC companies seasonally for service to keep things running effectively.