Four Great Ideas for Bay Window Treatments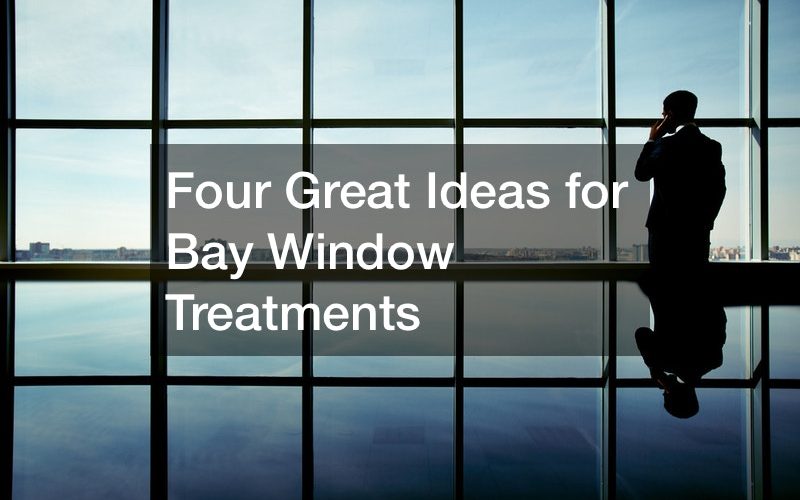 When you have windows that are letting in a lot of light, you may want more control over how much light is coming in. You may also want the option of having more privacy. Getting a nice window treatment can accomplish both of these goals. There are affordable drapery panels available in person in various local stores as well as affordable curtains online. If you are looking for alternatives to drapes, you can find a vast array of blinds available as well as sunshades and other treatments.
To find an affordable blinds company, you can look at big sites like Amazon and find thousands of different types of blinds. You can also go to local window treatment stores to find affordable blinds that you like. While real wood has a great look to it and is sturdy, there are faux wood blinds that look very much like real wood blinds. And, they take very little maintenance to keep them looking their best. When you find a great pair of blinds, they make the window look great as well as helping you to control the window for less light or more privacy. They can also add more value to your home.
Whether you are looking to renovate your current home or are building a new one on your own, there are lots of different options to consider. One that you might be tempted to overlook, but should always spend time considering is windows. While there are several choices, bay windows, which can also be known as bow windows, are combinations that protrude outward from a home to provide a nice aesthetic. They come in a number of different style and functional options and, like every other choice of window, are not completed without the right treatments. Finding the right bay window treatments is an important step for finishing a renovation or build.
Custom Hardware
Because of the way bay windows are built, it can be hard to find plantation shutters or other items that fit them exactly. As a result, you might have to either build or hire someone to construct a custom rod that allows you to hang shutters, drapes, blinds, or any other treatment. While that might be a bit difficult, it could be the best way to get a custom look that stands out.
Valances

Window valances can be a great option, particularly if they are coupled with movable drapes that can be opened up or closed. When opened, they can help a room seem much bigger and more open, particularly if you have particularly large bay windows, and when closed, they can help make any room more intimate. That flexibility combined with the customized aesthetic makes them one of the best bay window treatments.
Roman Shades
In a kids playroom or functional, rather than formal, kitchen, Roman shades might not be the best choice. However, in a beautiful living room, they help build a formal and elegant aura. You might have to pair them with blinds or another window treatment to get the functionality you desire, but Roman shades might be the most elegant option available.
Window Seats
While seats might not be a traditional window treatment, per se, they are a nice option. Not only do they add seating for families who like to host big parties and get-togethers, but curling up next to an open window during a rainy day is a great way to relax. Bay windows are unique in that they can provide a nice little nook to read or take a nap, and the right seating is needed to do that.
When it comes to interior design and window treatments, homeowners have dozens of options to choose from. And since everyone has different needs and desires, there is not necessarily one that will be right for all of them. But spending some time thinking about bay window treatments and other choices is smart for homeowners looking for the perfect blend of comfort, aesthetics, and functionality in their home. See this link for more references: windowtrendsnj.com